Monday Morning Commute: I'm Not Crying, You're Crying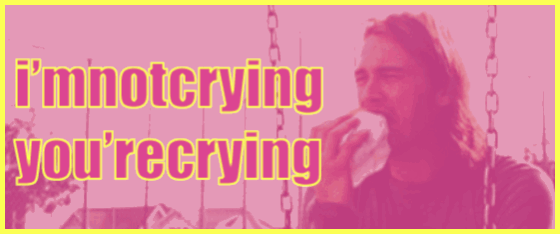 I fucking hate February. I hate its ashen skies. I hate its frigid air. I particularly hate this February. Record setting amounts of snow. Unfathomable cold. And I guess I'm just not coping with it well. The Better Half is away and instead of being a productive, healthy member of It All, I'm ordering Domino's Pizza and wondering if I can hack elastic bands into my overpriced Name Brand, Fancy Pants leg-warmers.
The February Funk must be conquered, though. Rode out to its logical conclusion, the hopefully more endurable Ides of March. And this is a list of the stuff I'm begging to help carry me through this week. The Monday Morning Commute, as they say.
—-
Just started watching Nathan For You. Amazing.

—
Marvel's Darth Vader #1. Amazing.

—-
The Order: 1886. On Friday. Hopefully amazing.

—-
My Wife will return on Saturday. Amazing.

—-
Team Daniel Bryan at Fastlane on Sunday.

—-
Didn't get to see The Kingsman because of the snow.
Not. Amazing. Will see it this Sunday.

—-
Just started watching Comedy Bang! Bang! Amazing.

—-
I need to stop eating so much pizza. Especially terrible pizza.

—-
How about you folks? What are you doing this week?