All-Women 'Ghostbusters' has been cast: Wiig, Jones, McCarthy, and McKinnon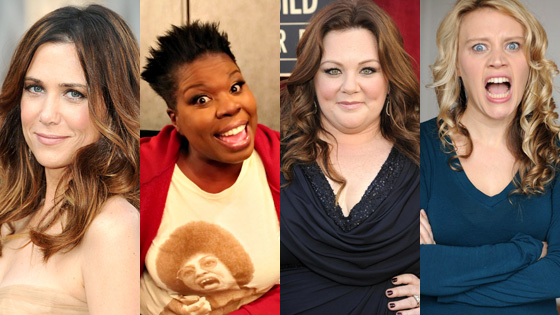 Paul Feig has cast his Ghostbusters reboot.
Sony Pictures has zeroed in on the cast for Paul Feig's female-led Ghostbusters reboot.

According to The Hollywood Reporter, Kristen Wiig and Saturday Night Live cast members Leslie Jones and Kate McKinnon are in negotiations to join Melissa McCarthy in the much-discussed comedy. Feig tweeted photos of Wiig, McCarthy, McKinnon and Jones this afternoon.

The involvement of McCarthy and Wiig come as no surprise, as the actresses starred in the director's 2011 comedy Bridesmaids, and were mentioned in leaked emails from the Sony hacks. However, the other two may be a little less expected: McKinnon debuted in 2012 as anSNL featured player, followed last year by Jones.
I'm stoked with this choices. Let's do the original justice, yo. What do you think of the cast?