Simon Pegg is co-writing 'Star Trek 3.' Yes please!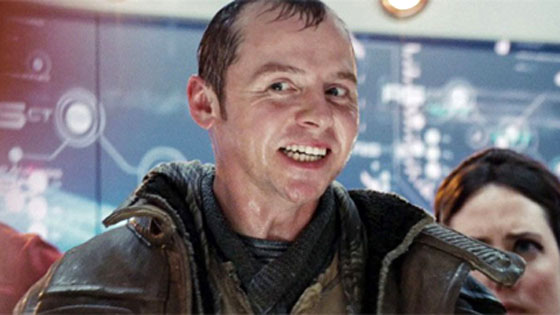 Simon Pegg is dropping his writing chops across the chest of the Enterprise. The actor, who plays Scotty (not like you didn't fucking know this), is cowriting the third Trek flick.
Simon Pegg has some big writing credits to his name — stuff you've probably seen, like Shaun of the Dead, Hot Fuzz,The World's End, and Spaced. Now he's reportedly set to co-write Star Trek 3, and will work on the script with Doug Jung.

Deadline reports. Jung created the TNT series Dark Blue, and has worked with Bad Robot before, which the site says led to this writing assignment. Pegg, naturally, is already connected to the Star Trek reboot universe, having played the engineer Scotty twice before. He was already set to reprise that role for the third film. Deadline suggests we may see more of Scotty thanks to Pegg's script involvement, but that may just be supposition on the site's part.

Beyond that, we don't know what the two will be working with, story-wise. We do know that Justin Lin recently took the job directing the film, after Roberto Orci's stint as director ended.

Rumors, driven in part by guesses based on the ending of Star Trek Into Darkness, have suggested that this film will be more of a classic Trek space adventure, with much more action in deep space.
I'm down with this. Like, a lot. I was enthused when it was announced that Justin Lin would be directing, and now I'm doubly enthused about the movie's prospects. How about you?