Microsoft reveals the HoloLens, their stab at an augmented reality headset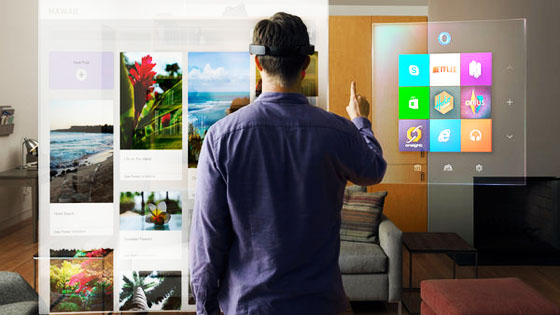 'Cause everybody is down with a fucking virtual-reality-augmented-reality-altered-reality-something-reality headset of their own these days. Microsoft's iteration is more holodeck than it is virtual reality. And like Oculus Rift and all the others it seems cool enough, yeah, okay, but I'm not dying to own one.
HoloLens is not quite Microsoft's version of the Oculus Rift or Project Morpheus, but something different: a set of augmented reality goggles designed to work with applications like Skype as well as games like Minecraft.

Kipman unveiled the HoloLens, "the most advanced holographic computer the world has ever seen," onstage. The HoloLens uses see-through lenses, spatial sound to hear behind you and advanced sensors. It includes built-in high-end CPU and GPU and a third processor, a holographic processing unit. Holograms are universal apps and all universal apps can be made to work with Windows holographic, Kipman added. The headset is untethered does not include wires or require a connection to a phone or PC. Windows 10 includes a set of APIs devs can use to create holographic experiences.

"Imagine turning your living room into a surreal gaming environment," he said.

Demonstrating more than virtual reality, a video shown during the presentation overlapped images with the real world; the clip included shots from the wildly popular game Minecraft. According to Microsoft chief executive officer Satya Nadella, the game is playable for those in attendance today. During an on-stage presentation, users demonstrated how holograms could be manipulated with gestures. The presentation also included a look at a tiny, holographic Terry Myerson, Microsoft's executive vice president of operating systems.
How about you? Stoked? Un-stoked? Sporting a semi?