Marvel announces final issues of 'Avengers' and 'New Avengers' ahead of 'Secret Wars'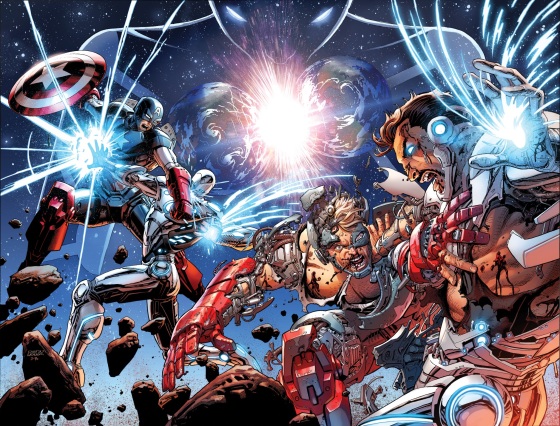 BECAUSE OF COURSE. It seems like every fucking event these days brings with it the final issues of major titles, only to relaunch them with some new adjective after the fact. Uncanny Forceful Nouveau Avengers, here we come. However, I suppose I got to rock the Serenity Prayer and simply accept it as part and parcel of the current Big Two Comic Climate.
Marvel has announced via a press release that Jonathan Hickman's long-running Avengers saga will conclude this April with the final issues of both "Avengers" and "New Avengers." As the release describes, the story will focus on the final planet-destroying incursion — the cataclysmic events that have been at the forefront of the latest volume of "New Avengers" — and Earth's Mightiest Heroes' attempt to prevent the destruction of their world. As the release states, these two oversized issues will bring the Avengers and the secret Illuminati group from "New Avengers" together for one final showdown against the unstoppable.

Mike Deodato will handle the art on "Avengers" while Kev Walker will return to provide art for "New Avengers'" final issue. Hickman took over the two interlocking titles in late 2012, thus beginning a densely-plotted run on the series. Marvel first announced the current "Time Runs Out" storyline last May. The story fast-forwarded eight months into the future this past fall with "Avengers" #35.

Even though these two titles are coming to a conclusion, Hickman's involvement with the Marvel Universe is far from over. The writer will next tackle the still mysterious "Secret Wars" event, which kicks off a month after these two Avengers finales. It's already known that "Secret Wars" will feature a new "Battleworld" comprised of chunks of land from previous Marvel storylines and parallel Earths. It has yet to be revealed if the incursions, events that cause parallel Earths to collide, are linked in any way to "Secret Wars," which features a Battleworld comprised of smashed together parallel Marvel Earths.
All this useless bitching considered, I'm still excited for Secret Wars, tho. I'm hoping it'll clean up a bit of the bonkers continuity (that has been admittedly generated a good amount by my binky Hickman) that is keeping me away from anything but Marvel's wonderful solo titles.