AMC orders pilot for 'Preacher' adaptation by Rogen, Goldberg, and Catlin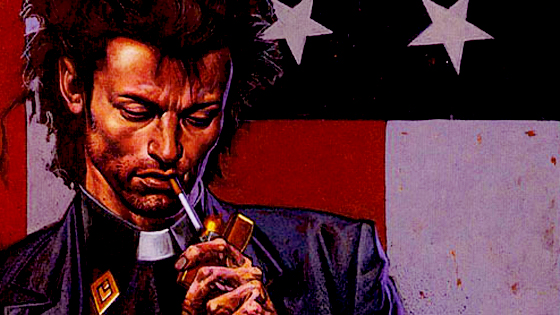 It ain't HBO. So they can't show the insane orgy-scat-fisting scene from Preacher. But they are AMC. And they've ordered a pilot based off of the goddamn glorious, goddamn irreverent, goddamn profane comic series.
Seth Rogen, Evan Goldberg and Sam Catlin's adaptation of Garth Ennis and Steve Dillon's acclaimed Vertigo series"Preacher" has a pilot order at AMC, as reported by multiple sources including Variety.

"'Preacher' has been our favorite comic since it first came out," Rogen and Goldberg said in a joint statement. "Garth Ennis is one of our idols and it's an incredible honor to be working on this. We promise we won't make too many dick jokes and ruin it."

Rogen and Goldberg wrote the adaptation, and "Breaking Bad" writer/producer Sam Catlin is set to serve as showrunner. According to Variety, the pilot will be produced in summer 2015, with hopes of the series debuting in 2016.

"With 'Preacher,' it starts with a bold, compelling, and thought-provoking comic book series from Garth Ennis and Steve Dillon and a whole lot of fans who already know Jesse Custer, Cassidy, and Tulip," Joel Stillerman, AMC's executive vice president of original programming, production and digital content, said in a statement. "We have everything we need to be VERY excited to move forward on 'Preacher.'"

Reports first surfaced of Rogen working on a "Preacher" TV adaptation in November 2013, and the actor subsequently dropped hints on Twitter, writing that "seven of years of hard work are about to pay off," in the form of him getting the chance to adapt one of his favorite stories. The series was announced as officially in development at AMC with Rogen, long-time creative collaborator Goldberg and Catlin on board in February of this year.
I really hope this shit is good. Preacher deserves to be adapted in long form. Sure the station can't get away with some of the more fucking disgusting portions of the show, but they can definitely get raw enough to do it justice. Anyone else amped?