Monday Morning Commute: Who needs long weekends?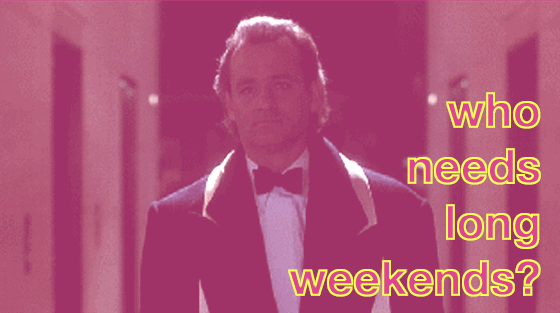 Hey friends. Today was a rockier commute than usual. The long, long weekend giving way to a long, long drive into Boston. Long, long silences when I tried to drag effort out of my students like poison from a wound. But I can't blame them, because fuck this semester has been going on for a long, long three months. My head is pounding. My stomach is seething after a day of daring to fill it with food products that are neither slathered in gravy, nor cheese. Still. The Column-Spice must flow.
So.
These — these are the various things I'm looking forward to this week. That I shall latch onto, not unlike a tick. And hopefully suck the life-blood out of, allowing me to not call out sick. Which would follow with me festering under a blanket. Eating my weight in Laffy Taffy. I can do this. You can do this. We can do this.
Welcome to Monday Morning Commute.
—-
Going to decorate a fucking tree. Like a boss!
—-
Seeing Devin Townsend on Friday!
—-
All I want is sugar. After a weekend of eating whatever I want. Fuck. 
—-
Oh dip! Animals As Leaders are playing on Friday with Devin!
—-
I will play more Grand Theft Auto 5 this week, if the Force allows it.
—-
Maybe catching up on comic books? Maybe? Reading? For fun?
—-
What are you folks doing this week? Hit me.