Rumor: First 'Star Wars' spin-off movie is a f**king heist flick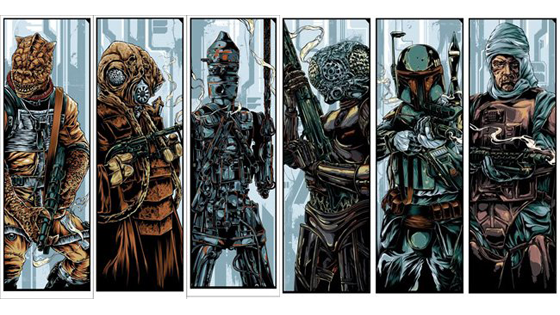 How about a Star Wars flick that's a heist movie? Well I say goddamn! Amazing. And I know. All Star Wars all the time around here. Listen, I'm sorry. Listen, just endure. I beg you. It won't be like this always. But I have a tattoo of Salacious Crumb on my testicles and my middle name was legally changed to "Dag..Dagohbah…Daohgbahaha System?" because I liked Empire but couldn't figure out the spelling. I was seven. So like this excitement and obsession is genetically encoded into me. This too shall pass. But until it does! FUCK.
After Star Wars: Episode 7 premieres on December 18th 2015, the next official Star Warsmovie won't be Episode 8 (directed by Rian Johnson), but a standalone, spin-off film. The first standalone film will be directed by Godzilla's Gareth Edward with a screenplay by Gary Whitta and a release date of December 16, 2016. Up until now, there has been no information on thisStar Wars feature, but plot details are are leaking out and they all sounds pretty exciting.

Slashfilm is reporting (an unconfirmed rumor) that the 2016 Star Wars movie will be centered around the ultimate space heist, trying to capture the plans to the Death Star. BUT WAIT, this is NOT necessarily in reference to the "Bothans" scene from Return of the Jedi. According to Slashfilm, this story happens before the building of the first Death Star.

In fact, these stolen plans are the very schematics Princess Leia hid inside R2-D2—the information that basically launched the start of Star Wars: A New Hope.

But wait, there's more! The people tasked with stealing these plans aren't technically members of the Rebel Alliance, but hired mercenaries. Yes we're getting a rag-tag team of BOUNTY HUNTERS to follow the plans. Slashfilm is saying, "think the Seven Samurai or Suicide Squadmeets Ocean's Eleven in the world of Star Wars." And yes, I will think that, because that is awesome. Also this makes sense; if this is during the early days of the Rebellion, there simply may not be enough manpower or folks associated with the cause that have the particular skills needed to tackle a job this big. So hire some space mercenaries.

OK, here's where the wild speculation starts. The rumor also mentions that the Millennium Falcon is some how involved. Could this be a showing of the famous Kessel Run? Or could Han Solo's black market past of dumping his goods "at the first sign of an Imperial cruiser," play into this? Maybe. If so, we hope it's more in the background, because we really don't need to recast Han Solo right now. That would hurt my soul. Hey, maybe Han doesn't even have the MF yet; that's all up for debate.
I love this idea. Sure it dabbles in established mythos. But if the rumor is true, then the movie is going to bring (theoretically) a new vibe to the Universe. Which frankly is needed, if they're going to trot out so many movies. It's a big goddamn franchise. Come at it from different angles.