Astronomy Boner: FIRST EARTH-SIZED planet found in a STAR'S HABITABLE ZONE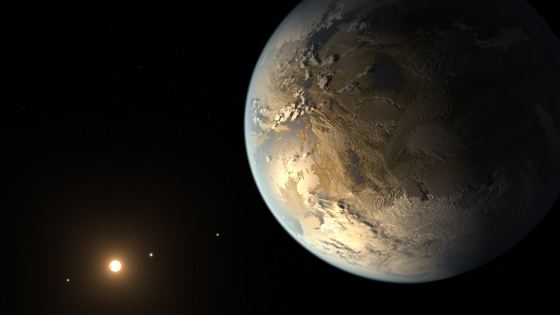 Fucking killer, man. The first Earth-sized planet has been found in a star's habitable-zone g-spot. Pack your fucking bags, man. Time to get off this rock. I'll grab the Milwaukee's Best, you conquer the transportation method. Fair deal?
I have some cautiously exciting exoplanets news: Astronomers have announced the discovery of a planet that is very nearly the same size as Earth and orbiting its star in the habitable zone—that is, at the right distance from its star to have liquid water on its surface. We don't know how Earth-like it is, but this shows that we're edging closer and closer to finding another Earth, and this one is the best bet we've found so far.The planet is called Kepler-186f and was discovered using the Kepler Space Telescope, which was designed to look for planets orbiting other stars. Kepler exploits what's called the transit method: It stares at 150,000 stars all the time, looking for dips in the amount of light received from every star. The idea is that if a star has planets, and if we see the orbits edge-on, then every time the planet passes between us and its parent star it'll block an teensy bit of light (usually far less than 1 percent).

This method is extremely powerful—about a thousand planets have been found this way in Kepler data! In fact, most of the planets found this way have been from Kepler. Another cool thing is that if you know how big the star is (and we generally do) then you can also determine the size of the planet by how much light it blocks.

Kepler-186f is one of the big success stories. It's part of a mini-solar system, a five-planet system orbiting a red dwarf: a smaller, cooler star than the Sun. The other four planets (Kepler-186b-e) are all very roughly Earth-size, but orbit far closer to the star, ranging from 5.1 million kilometers (3.2 million miles) to 16.5 million kilometers (10 million miles)—for comparison, Mercury orbits the Sun at a distance of about 50 million kilometers (31 million miles), so this really is a solar system shrunk down. But even though the star is cooler than the Sun, these planets are close enough to it to be pretty hot; even the farthest of the four previously known would be hot enough to boil water on its surface (assuming it has a surface).

186f is different, though: It orbits farther out, about 53 million kilometers (33 million miles) from the star, where temperatures are more clement. Making some basic assumptions, it lies near the outside edge of the star's "habitable zone," where liquid water can easily exist on the surface of a planet. We know of several dozen planets like that in the galaxy so far, but what makes 186f special is its size: it's only about 1.1 times the size of Earth! Together, these make it potentially the most Earth-like planet we've yet found.