Brandon Graham's EMERALD CITY COMICON ART depicts creator-owned characters as attendees
Brandon Graham's latest effort of inspired rockitude comes courtesy of the Emerald City Comicon. Graham has provided art for the convention which depicts a veritable fuckload of creator-owned characters just hanging out. Attending the convention. It's a wonderful way to a) hype the con, b) pay tribute to the gnarly cavalcade of creator-owned characters out there, and c) give me a boner.
Hit the jump for the full artwork and details!
Past attendees of Seattle's Emerald City Comicon will doubtlessly get a kick out of this new piece by cartoonist Brandon Graham. The cover of the con's program guide, Graham's illustration places some familiar comic book characters upon the Washington State Convention Center's massive escalators that all con-goers must ride to-and-fro throughout every ECCC weekend.

Thematically reminiscent of a 2011 piece by Michel Fiffe, Graham's celebration of the famously comics and cartoonist-centric Seattle show (as opposed to the infamously everything-but-comics nature of other conventions of note) is populated exclusively with creator-owned or otherwise non-Marvel and non-DC characters. The artist even managed to squeeze the popular Welcome to Night Vale podcast into the piece by way of a jambox carried by Mike Kunkel's Herobear. Other highlights include Corey Lewis' Sharknife playing a handheld game device and Graham's own Earthling J. J. Cattingworth (from King City) riding the back of Michael Allred's Madman, very likely the comic book character who appears more than any other in illustrations of this kind. [Comics Alliance]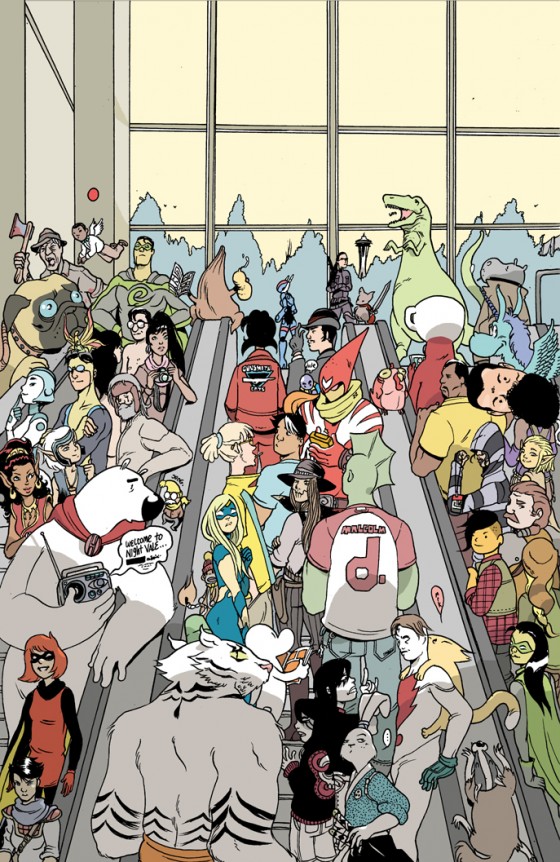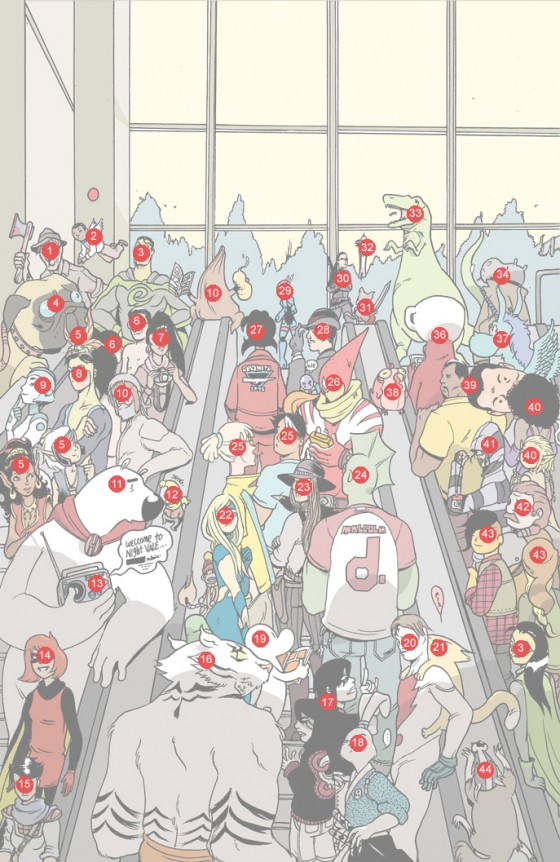 Still stumped? Head over to Graham's tumblr for the answers.