MOST GNARLY: Brandon Graham creates shared sci-fi universe at Image called "8HOUSE.'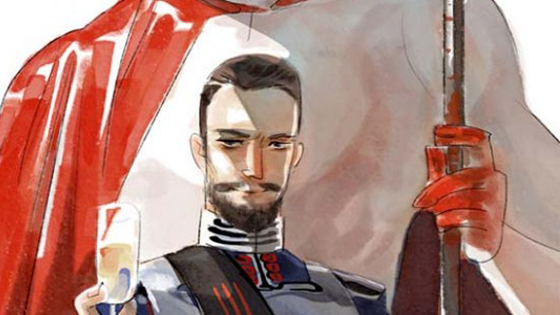 So fucking ill. Nana with warts on her butt hole shades of ill. Brandon Graham is creating a shared sci-fi universe "8House" over at Image Comics, and the whole thing sort of smacks like a Graham Universe. A collection of mini-series taking place in a shared universe, creator-owned characters, and creativity out the ass. I am fucking there.
Brandon Graham is known for both his skills as the Eisner Award-winning cartoonist behind "King City" and"Multiple Warheads," and his readiness to speak his mind — no less of a source than Rob Liefeld said last fall, "No one talks trash like Brandon Graham."

So it was a safe bet he'd step on stage earlier this month at Image Expo in San Francisco with something bold. At the event, Graham announced "8House," a series of sci-fi/fantasy miniseries set in a shared universe, with multiple creative teams contributing and a story involving projecting minds into dead bodies and monsters, in a world unified by eight magical ruling houses.

The first series, launching later this year, is titled "8House: Kiem," written by Graham and illustrated by Xurxo Penalta. "8House: Arclight" follows, also written by Graham and illustrated by Marian Churchland, who released the acclaimed graphic novel "Beast" in 2009. "Pretty Deadly" artist Emma Rios moves into the writer slot with third miniseries "8House: Mirror," illustrated by Hwei Lim — Graham says each creator will own what they contribute under the "8House" banner.

[CBR]
Give me this. Put it in my guts.