DUDE HUGE (Cliff Bleszinski) wants to make FIRST-PERSON ARENA SHOOTER on PC. Old School Stylee.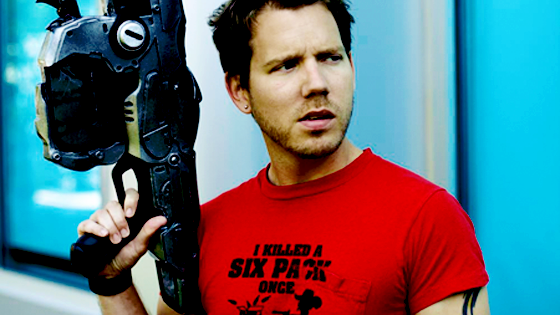 Dude Huge has revealed his want. His burning desire. After leaving Gears of War and Epic like two years or go whatever, he's been relatively quiet. No anymore. This want? It is a return to old-school arena shooters. Fuck to the yes.
Cliff Bleszinski has an idea for his next game: He wants to make a first-person arena shooter on Windows PC, he said yesterday on Pointless, the podcast from formerAttack of the Show host Kevin Pereira.

Bleszinski made a name for himself as a game designer at Epic Games, where he worked for two decades on franchises such as Jazz Jackrabbit, Unreal and Gears of War before leaving the company in October 2012. He said on the podcast that he had to "start fresh" after departing the studio, but this past August, he began teasing his next project on his Twitter account with cropped pieces of concept art.

"I have a slide deck, I have a pitch, I have concept art, I know pretty much what I want to do," Bleszinski told Pereira. "It will be a PC experience that will hearken back to a certain type of game that we cut our teeth on, if you know what I'm saying."

When asked about the genre, Bleszinski said the game is a first-person shooter, but not the type of first-person shooter that's popular these days — "a lot of these kids playing Call of Duty, I don't think they know what a proper arena shooter is," he explained.

It's unclear if the arena shooter is the same game that Bleszinski teased in the images. At this point, he doesn't have a development team in place, but he knows that he doesn't want or need a massive studio, and he also isn't interested in going with a traditional publisher-developer arrangement.

"It would require a studio. But as much as I'm impressed with No Man's Sky, you know, that's four people," he pointed out.

[Polygon]
Fantastic. I spent many, many, many hours rocking Unreal and Unreal Tournament. There was a special glorious frenzy to the action, and I'm more than ready to return to it.