Rumor: DICK GRAYSON to make appearance in 'BATMAN VS. SUPERMAN.'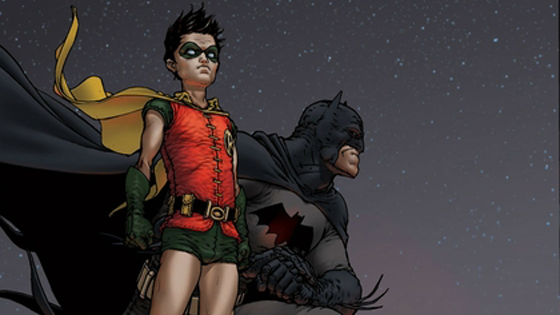 Eh, it ain't as titillating to me as Marvel rocking four new live-action series on Netflix, but this is pretty cool. Right? Dick Grayson may be showing up in Batman vs. Superman, according to sources. Humans. Specifically the Latino Review.
With a "Man Of Steel" online fan event coming up on Saturday, there is speculation brewing that some kind of announcement regarding the sequel may be unveiled, with some suggesting we might find out who will be playing Lex Luthor, the presumed villain of "Batman Vs. Superman." And even though we're still two days away from whatever is (or isn't) officially unveiled, that can't stop the rumor mill from churning, so here's a new one for you.

Latino Review is reporting that Dick Grayson aka Nightwing will be in "Batman Vs. Superman." Apparently, the studio is looking for "a young John Hawkes type" and stunt people with a familiarity in martial arts, helping to fuel the juice behind this intel. But if it does pan out, don't expect a Batman/Nightwing tag team… At least, not right from the start. In the film (again, if these rumors are true) Nightwing and grizzled Batman will not have spoken for years. Hmm…
You down? I don't care, whatever, go for it guys. At this point I'm so shrug-heavy when it comes to the DCU that I will entertain anything as potentially awesome.
(Save for Zack Synder, c'mon. You know I'll never lower that torch.)