MARKY MARK WAHLBERG sort of wants to play IRON MAN after RDJ.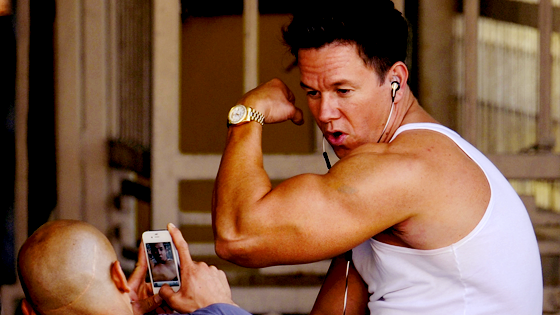 Disclaimer: I actually like Marky Mark. You know, when he is playing one of his beefcake bimbo roles. But as the lead in Iron Man? Thinking about it. My testes ascend into my throat, and not shortly after I vomit them out into my martini. I still drink said martini, of course.
In a new interview, Mark Wahlberg says he'd like to take over the Iron Man franchise from Robert Downey Jr. He's mostly kidding. The line is delivered in a semi-joking tone and he goes on to say he's never really been asked to play a superhero. He prefers to play someone real and relatable. The actor then realizes, with turns in Ted and the upcoming Transformers 4, he's getting quite comfortable acting with someone who isn't there and finishes the thought by saying how much he liked The Avengers.

So while Wahlberg's quote definitely comes off as a throwaway line, the fact that Robert Downey Jr. could only have two more appearances as Iron Man, and that Wahlberg is six years younger than Downey Jr., does leave the door open a crack. Check out the interview below.

The interview comes from Yahoo Movies UK, with a nod to Comic Book Movie.