Buy These Flippin Comics! (8/14/2013) Omega To Infinity!!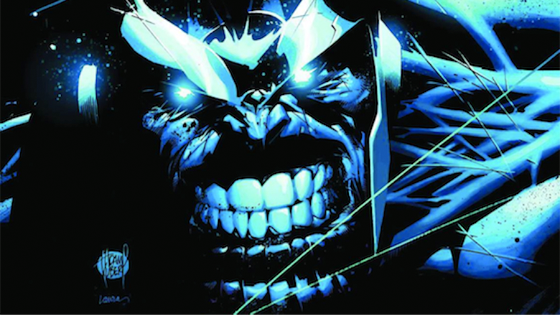 Another week, another batch of funnybooks.  Hit the jump for more of my words, plus a special guest host!
Whattup, kidz?  I can't tell you how excited I am for the batch of comics that publishers are springing on us this week.  I'm even more excited that Image Comics has decided to send out the characters from their hit book "Saga" on a press tour to promote the return of the book this Wednesday!  So joining me on the column this week is one of the breakout characters from the series, a feline that really needs no introduction, the Chewie to The Will's Han, a walking, talking bullshit-meter….LYING CAT!!  Welcome to BtFC, Lying Cat.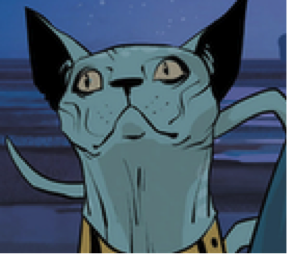 Thanks for agreeing to help me out this week.  You are literally, like, my favorite character from a book that has plenty of interesting personalities.
 LYING!!
Geez, I sorta walked right into that one didn't I?  Okay, I guess Marko is my favorite.
 LYING!!
Alright, alright, it's the shotgun-wielding, half-naked, spider-lady!!  What can I say?  I am a deplorable human male.
Ahem, so anyways…time for some comics!  Remember, hit us up in the comments below and let us know what you plan on spending that hard earned dough on, and convince us to do likewise.  Make us into believers!
—-
INFINITY #1 (of 6) – Marvel Comics
This might be the Pick O' The Week, if not for my general hesitation with "event" books.  Hickman has been doing some pretty awesome and interesting stuff on his Avengers books: Builders, Black Swans, broken Infinity Gauntlets, Incursions, and the Illuminati's alliances fracturing, all building towards an epic space battle and the return of one of my favorite villains, Thanos.  "The Infinity Gauntlet" was one of the first event books that ever caught my eye as a little kid, and Thanos' ass-whupping of the Marvel U was fucking brutal.  I only hope for more of the same.  Jim Cheung is Kobe Bryan + Tom Brady level talent, too, so this could very well be a classic.
Lying Cat, that female alien that ran Sextillion, the Disneyworld for sexual deviants in Saga, she looked kinda like Thanos…any relation?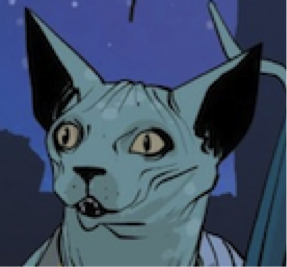 Is that a no?….
—-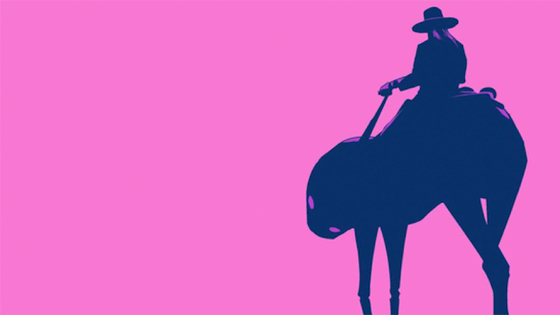 EAST OF WEST #5 – Image Comics
I love me some Westerns.  I love me some dystopian futures.  This book has both.  Add an impending apocalypse, and I'm pretty much throwing my money at the project.  Hickman and Dragotta are hitting my goddamn sweet tooth, fer sure.
—-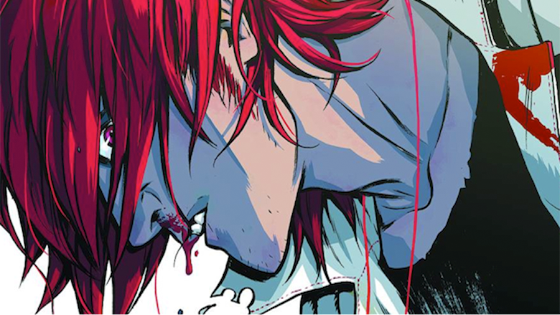 TRUE LIVES OF THE FABULOUS KILLJOYS #3 (of 6)
So rock star-cum-Eisner Winner Gerard Way, not content with having just one fantastic genre-bending creation under his belt, grabbed up superstar artist Becky Cloonan (also an Eisner winner), and decided to strike gold twice.  Those who doubt Way's comic cred, by listening to his interview on the Nerdist Podcast I found out the dude went to art school, and then interned at DC Comics.  He wanted to be in funnybooks first, and the rock band gig was his fall back plan.  So, I guess what I'm saying is, the guy is genuinely in love with the art form, and knows how to deliver.  This is another "dystopian future" book (Hotsauce, you're such a sucker), but has certain, undeniable rock star sensibilities (and a great lyrical quality to the dialogue), that I can't wait to be able to read it all in one sitting.  Cloonan is dynamite on art chores (but damn, does her work look great in b&w or color – here, color).
—-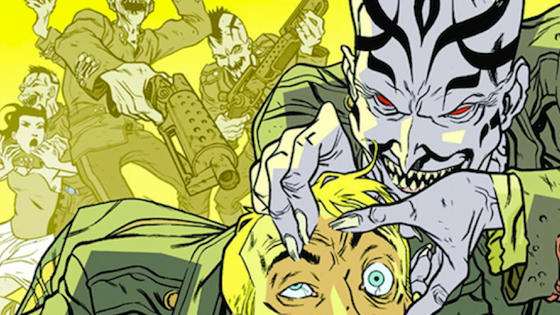 Six-Gun Gorilla #3 
Western?  Check.  Dystopian Future?  Check.  Cowboy Gorilla?  Check!  I've been loving this weird little sci-fi yarn from Spurrier (X-Men: Legacy) and Jeff Stokely.  I thought it was going to be something a bit more silly, but it turns out there is a beating heart to it, a pulse of the important.  We're only a couple of issues in, but I think there's more to this book than just apes with artillery.  Or, AN ape.
—-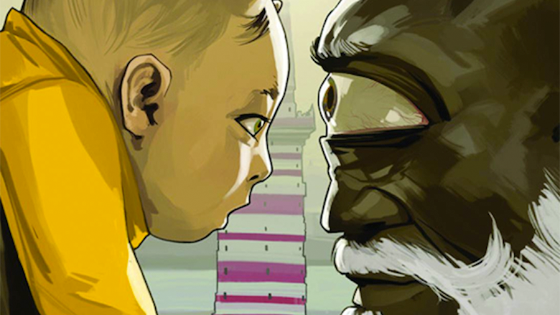 OMEGA-LEVEL PICK O' THE WEEK
SAGA #13 – Image Comics
I don't know what I can say about this book that hasn't already been said.  Brian K. Vaughan's books are consistently entertaining and thought provoking.  Fiona Staples is a revelation…though she may have been around a little while, her boundless imagination and brilliance with a pen have really made this book the success that it is.  Back from a few months' hiatus (does anyone get the feeling that this is pretty great maneuver, letting Ms. Staples work at a non-rushed pace, build excitement for the book between arcs?), I'm ready to dive back into the middle of this Galactic Civil War, and the awesome family caught in the middle.  Props to BKV for exploring PTSD both realistically and appropriately, not so much as a plot device, but as a real disease with crippling effects on a soldier.  Anyways, if you've never read this book, I think this could probably be a good jumping on point (though there are only two trades that are pretty cheap, it wouldn't be that hard to start at the beginning).
Lying Cat, at the end of the last ish it looked like your goose might have been cooked, being sucked out into space and all.  Your partner, the Will, pulled you back in, but I fear the worst.  Do you think we've seen the last of you?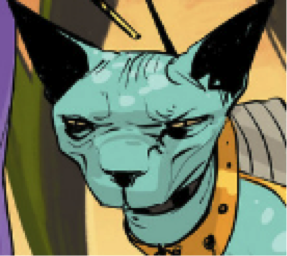 Yeah, I suppose you wouldn't be here if you were dead.
—-
B-SIDES
STAR WARS #8 – Dark Horse Comics
I haven't been super impressed with this book so far, but I'm sticking it out, hoping it will eventually prove awesome.  This ish has Solo and Chewie v. Boba Fett, so that's a plus.
Batman #23 – DC Comics
More "Zero Year."  More Scott Snyder & Greg Capullo making straight-up fun Batman books.
Uncanny X-Men #10 – Marvel NOW
SHIELD recruits another mutant agent, this one a longtime fan favorite.  Starts with D, and rhymes with azzler.
Astro City #3 – DC (Vertigo)
I'm more of "wait for trade" guy when it comes to Astro City, and I don't think that will change here, but I wanted to talk AC for a minute.  I'm super impressed DC wooed Busiek over to their imprint, and glad that the book is still going.  However, Dark Ages kinda bummed me out.  I didn't really ever want to see how the sausage was made (in this case, how the Silver Agent came to be the martyred hero he was).  It always worked better in the fantasies of the readers, I think.  Anyways, I still think this series is a great meditation on the power of super-heroes and all the little sub-genres they can inhabit.
That's it for me this week.  Again hit us up in the comments section for your snags!
I'd like to thank Image Comics for sending Lying Cat over to chat with me.  It's been a pleasure!
 LYING!!
G'night!