Cosplay: LATEX LADY DEADPOOL. RIDING AN INFLATABLE DRAGON. Game over.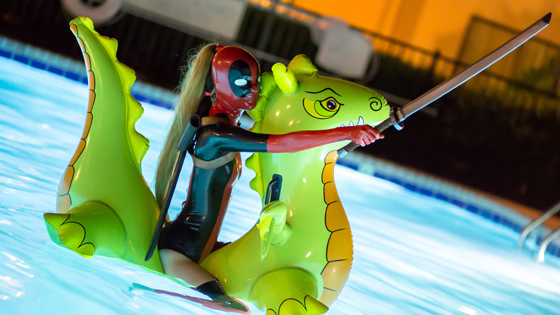 There is a good chance that this is the cosplay that finally breaks me. I shudder, staring at it. Drinking in the glorious latex. Murmuring to myself about the absurdity of the Lady Deadpool riding an inflatable dragon. Knowing very well that I will never be able to experience such a scenario first hand. Feeling my psyche shatter with disappointment. And rage.
Deadpool has been cosplayed every which way, but I don't think I've seen the costume in latex form and I definitely haven't seen it paired with a blow-up dragon raft. Cosplayer Fenix Targaryen rocks the outfit by Adala Clothing, and I'm amazed at how flexible the fabric must be. It barely looks like she can move in it but hey, she can ride a dragon. She also did some more straightforward studio shots that look gorgeous and sexy. Photos by Matt Zeher and Convoke Photography.