Cosplay: ATOMIC WONDER WOMAN is ready to CHAINSAW YOUR FACE.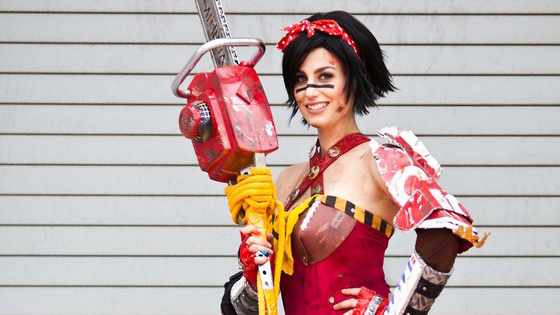 Atomic Wonder Woman is ready to chainsaw your fucking face. Right off. Grind it up into bloody giblets and fling them into the stratosphere. Don't protest too much, we both know you've earned this sentence into oblivion.
Atomic Wonder Woman fits into the Infinite Crisis corner of the DC universe, and she has a pretty wild costume. She's got a bustier with cups made from footballs, a skirt made of ties, and a very fierce Rosie the Riveter sort of look. When cosplayer Meagan-Marie saw the character design, she knew she had to put it on her list of costumes. She ended up putting the whole thing together in a week and a half before Comic-Con this year. She did a wonderful job in such a short period, and the finished costume makes her look like a walking version of the action figure. It's a fun take on the character, and she absolutely nailed all the details.

Photos by Andrew Ho, Adam Patrick Murray, and LJinto.