CLIFF BLESZINSKI teases NEXT PROJECT with SOMETHING LIKE AN IMAGE.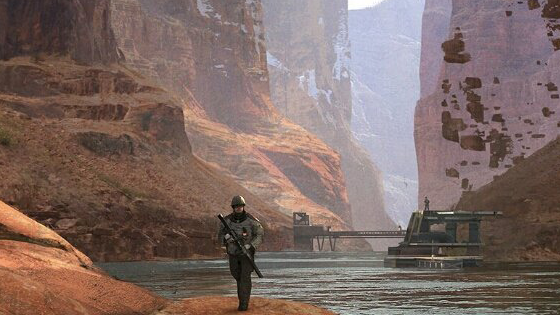 DUDE HUGE has teased us with a glimpse at his NEXT FUCKING PROJECT. The image itself doesn't really do anything for me. I imagine it doesn't do much for anyone. However, what it represents is something special. It works deep into my testicles, tingling them and reminding them of a gaming world where HUGE DUDES canvassed the Earth. The gaming industry is much more lively when CliffyB is dropping games on our asses. In our asses. Everywhere.
Hit the jump for more info. Oh, and the image.
The image depicts a soldier standing with weapon in hand at the bottom of a river-threaded canyon. The scene also features a military patrol boat in the foreground and an installation in the background with at least two sentries. According to Bleszinski, the artist is Shaddy Safadi, a concept artist who has previously worked on The Last of Us.

Earlier this year, Bleszinski revealed in an interview with VentureBeat that he would like to return to AAA game development eventually, but starting his own large studio was "the last thing I would want to do" and would prefer to start small.