Friday Brew Review: Bar Harbor Blueberry Ale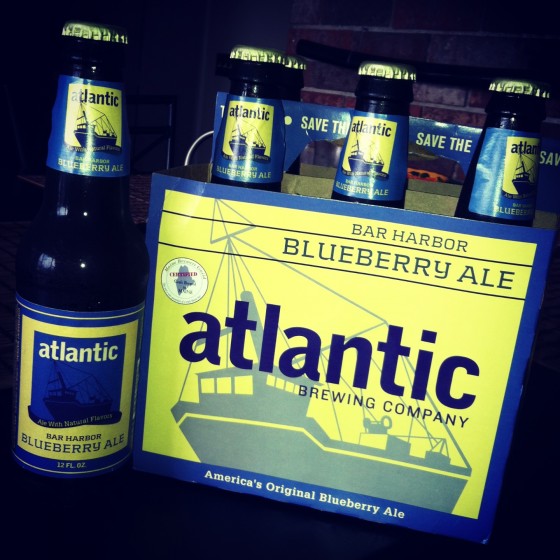 Holy shit! Maine's making beer now!
As a lifelong resident of Massachusetts, I've always been a bit weary of Maine. That's not to say that the Pine Tree State doesn't have anything to offer. It does. It's the spot to go for quintessential New England seafood, the people are friendly, and it's scenic as hell. I wouldn't try to dissuade anyone from vacationing in Maine.
With that said, there's something a bit discomfiting about Maine.
Maybe it's the fact that the state is in a weird spot culturally. After all, Maine is wedged right next to the libertarian paradise that is New Hampshire, the hippie epicenter of Vermont, and the progressive-to-the-point-of-scrutiny Massachusetts. What does this leave Maine claiming? Rocky shores and some mountains.
Or maybe I find Maine distressing because it's mostly uninhabited. Last year I drove to Nova Scotia by myself, and spent the better part of six hours weaving my way through the wilderness of Maine. And let me tell you, if I had hit a moose out there (as the signs so comfortingly warned that I might), I would've been dead meat. There's no way that anyone with the abilities of resuscitating my mangled corpse would've found me in time.
Then, of course, there's Stephen King.
So it was with a bit of trepidation that I picked up a sixer of Bar Harbor Blueberry Ale from the folks at the Atlantic Brewing Company. As I brought the beers to the register, grappling with a barrage of thoughts, some rational and most not. "Is this ale any good? How strong is the blueberry flavor going to be? Is it safe to drink? Is this nothing more than Maine-yokels fooling us by bottling their pee after eating blueberry pie? Should I call Sam Adams and tell him that there're some wild Mainers tryin' to cut in on his action?"
By the time I got home, I was driven to investigate this beer.
Visiting their website, I came to find that the people at the Atlantic Brewing Company seem to be well-intentioned. Now providing beers to drinkers throughout Maine and New England, Atlantic Brewing was founded in a manner not uncommon for those that rose out of the 1990s microbrewing explosion. Paraphrasing their words, the company began in 1990 and continued rockin' beer until finding their current Bar Harbor facility in 1998.
Okay, so it looks like they fit the template of what I look  for in a beer company. But what about this kooky brew I've picked up? Well, Atlantic Brewing describes Bar Harbor Blueberry Ale in the following terms:
Nearly twenty years ago, a local farmer stopped by our brew pub looking to sell his truck full of wild Maine blueberries, providing the inspiration for our Bar Harbor Blueberry Ale. That year our beer debuted at the first-ever Maine Brewer's Festival where it was enthusiastically received. This brew stands alone as a beer first, ending with a subtle berry finish. Unlike many fruit beers on the market, which are imbalanced with sweetness our amber ale isn't overly fruity—just enough berry flavor to complement the hops.
Time to drink.
Pouring it into a standard beer-drankin' glass, the ale settles translucently into a hue of rich orange or amber. In fact, I'd believe it if you told me that scientists found a mosquito with dinosaur-DNA trapped in a bottle of the Blueberry Ale. Resting atop this amber wonder was a good-sized, airy dollop of white foam. Lookin' at the glass of beer before me, I think I understood how the Maine-faithful feel when gazing at a snow-crested Katahdin.
Just as any physician from Maine would advise, I like to get a whiff of something before I put it in my mouth. Put the `ole fart-detector over the mouth of my glass, I took a hearty draught. The bouquet brandished by this concoction is definitely more ale than blueberry. While there are certainly some light fruit notes to be smelled, a cursory sniffing may give the impression that this is just a run-of-the-mill blonde ale. Frankly, it was a little underwhelming.
In regards to the actual drinking experience, there's a lot to enjoy about this ale. The body and carbonation are light, helping to deliver multiple servings to your tum-tum with supreme ease. The taste buds doin' the most dancing are those responsible for recognizing maltiness, floral qualities, and grains. On the other hand, the taste buds that have a bit of trouble on the dance floor are those trying to find the blueberries in this ale. They're there, for sure, but they are more elusive than one might expect from the name.
Then again, Atlantic Brewing's description did mention the fact that the blueberry flavor was just a complement, not a feature.
If you ever find yourself in Maine, the first thing you should do is make sure you're there of your own volition. If not, make your way to Bangor and seek help from the King. But if you're safe and sound, make your way over to Bar Harbor and get yourself a Blueberry Ale! It's not an especially fruity beverage, but it'll go down easy and satisfy you on a hot summer's day!
Final verdict: B+