Jealous: Olly Moss created 'THOR: THE DARK WORLD' posters as wrap gifts for actors.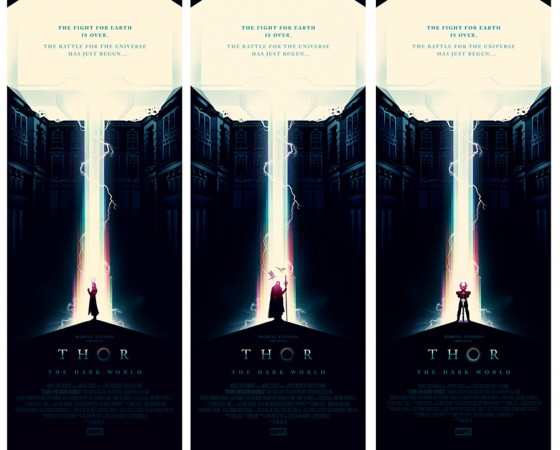 Goddamn famous people. Being gorgeous as fuck. Rich as shit. And getting hot as fuck-shit posters from none other than Olly Moss. Christ, Hemsworth. Fucking share your fortune. At least give me your glorious locks.
Renowned movie poster designer Olly Moss, who last year illustrated a variant cover for DC's Before Watchmen: Moloch #2, was hired by Marvel Studios to create a wrap poster for Thor: The Dark World. As the name suggests, the print is given to the cast and crew to commemorate the completion of filming (Paolo Rivera was commissioned to create the one for Captain America: The First Avenger).

As you might expect, what Moss came up with is stunning, with each of the principal cast members receiving posters featuring their characters. Although it's a little tough to tell, the above images appear to show Tom Hiddleston's Loki, Anthony Hopkins' Odin and Jaimie Alexander's Sif Idris Elba's Heimdall. Chris Hemsworth's Thor can be seen below. The personalized nature is a nice touch, but the best thing about the posters is that the teleportation plume — I don't know, is that what we call it? — takes the shape of Thor's hammer.

OK, that may not be the best part, as Moss says,"And they paid me with a real Mjolnir!" You can see it for yourself on his blog.