Apple wasn't to blame for blocking 'SAGA', but they still pretty much suck.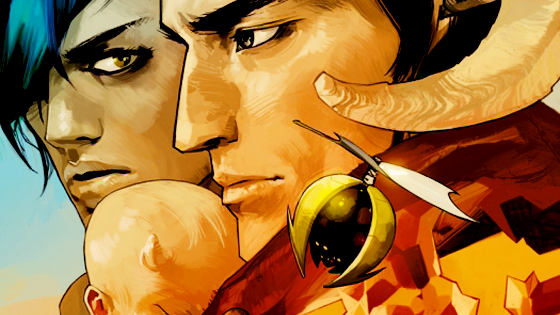 As the world fucking turns! Apparently it wasn't those Techno-Fascists at Apple who banned Saga #12 from the digital comic shelves. No sir, no ma'am. Turns out that ComiXology never even submitted it to them for approval. The company claims that it didn't have to do with any particular sexual orientation, but can we just throw the flag on that bullshit? What then – what magical thing in the twelfth issue – prompted them to forego submitting it? 'Cause they've submitted issues of Saga with raging rotting testicles, gratuitous hetero-fucking, and ultra-violence.
I ain't buying it.
And Apple? Fuck them anyways.
Turns out we were all pointing fingers at the wrong party in the banning of Brian K. Vaughan's acclaimed comic Saga from Apple devices. (Including Vaughan himself.) Comixology, which distributes Saga on Android and iOS devices, has come forward and taken responsibility. And fixed the mess.

Comixology CEO David Steinberger writes:

In the last 24 hours there has been a lot of chatter about Apple banning Saga #12 from our Comics App on the Apple App Store due to depictions of gay sex. This is simply not true, and we'd like to clarify.

As a partner of Apple, we have an obligation to respect its policies for apps and the books offered in apps. Based on our understanding of those policies, we believed that Saga #12 could not be made available in our app, and so we did not release it today.

We did not interpret the content in question as involving any particular sexual orientation, and frankly that would have been a completely irrelevant consideration under any circumstance.

Given this, it should be clear that Apple did not reject Saga #12.

After hearing from Apple this morning, we can say that our interpretation of its policies was mistaken. You'll be glad to know that Saga #12 will be available on our App Store app soon.

We apologize to Saga creator Brian K. Vaughn and Image Comics for any confusion this may have caused.

Glad to hear the problem has been solved — although, as Bleeding Cool points out, Apple still blocks the sale of 150 French comics, which were far less explicit. [via NK Jemisin]