'FAR CRY 3: BLOOD DRAGON' stars KYLE REESE from 'TERMINATOR', will blow your mind on May 1.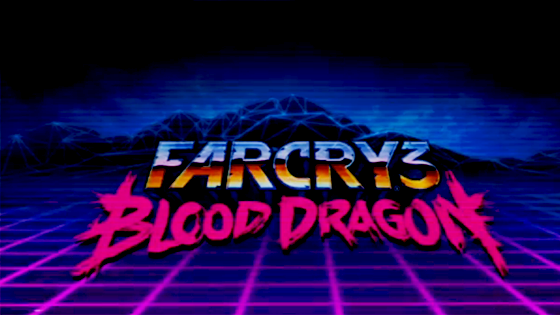 The hits just keep coming with Far Cry 3: Blood Dragon. Not only is there less than a month until this game's cyber-arm will blast our gaming G and P-spots, but the fucking game is starring none other than Kyle Reese. Can you feel my nipples hardening from there? I'm carving your name in ice with them. I love you. Let us love this game together.
Joystiq:
Not only is Far Cry 3 Blood Dragon very real and very, very neon, it also could be here in just over three weeks. The 80s-inspired Far Cry 3 spin-off emerged on the Xbox Live Marketplace this weekend, where its release date is listed as May 1. The listing confirmsBlood Dragon as a standalone shooter which won't require a copy of Far Cry 3, likely only to be single-player given its online features are restricted to "leaderboards."

More important than that, or the confirmation of previously leaked screenshots (see the gallery below), is that Blood Dragon features the radness of Michael Biehn, he of Kyle Reese in Terminator and Corporal Hicks in Aliens fame. Biehn's starring role is just a part of the "80s VHS vision of the future" that is Blood Dragon, according to the XBLM listing.

It reads in full:

 Far Cry 3 Blood Dragon is THE Kick-Ass Cyber Shooter taking place on a bizarre open-world island crawling with evil. Welcome to an 80's VHS vision of the future. The year is 2007 and you are Sargent Rex Colt, a Mark IV Cyber Commando who's fighting against a cyborg army gone rogue. Your mission: get the girl, kill the baddies, and save the world. Experience every cliché of a VHS era vision of a nuclear future, where cyborgs, blood dragons, mutants, and Michael Biehn (Terminator, Aliens, Navy Seals) collide. Playing Far Cry 3 Blood Dragon doesn't require a copy of Far Cry 3.Quite how Blood Dragon ties in to Far Cry 3 beyond the island remains to be seen.

We've reached out to Ubisoft for more info. While details are so far restricted to XBLA,Brazilian classification ratings point towards releases on PS3 and PC as well.