WARREN ELLIS dropping 'AVENGERS: ENDLESS WARTIME' graphic novel with Mike McKone.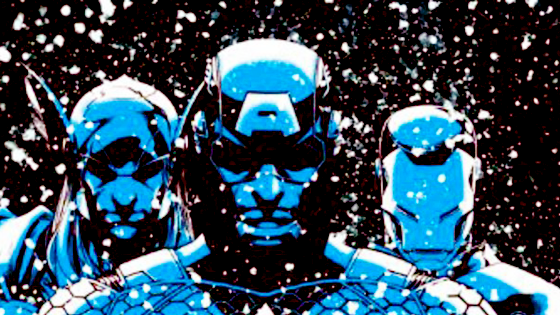 Well, now I know what Warren Ellis has been up to. You know, when he isn't penning mediocre detective novels and neglecting Doktor Sleepless. The favorite writer of mine has been slaving away on an original Avengers graphic novel. And yeah, while I'm pretty excited for it, I really wish he was spending this time and energy giving me more Doktor. Please. I beg you Warren. More Doktor.
It appears Marvel Comics' longtime resistance to original graphic novels may be falling away.

A new listing on Amazon.com reveals plans by the publisher for a new OGN called "Avengers: Endless Wartime" by Warren Ellis and Mike McKone. The book comes after years of talk from the publisher that long form comics released without serialization didn't fit their business plan. Marvel has in recent years released OGNs under the "Season One" banner, though those continuity-light origin tales were often cited as an exception to the rule as the publisher planned to gain extra revenue from non-traditional sales outlets on those releases (the particulars of which have not fully taken shape).

"Endless Wartime" seems to be a different sort of project: a major story told by name creators and wrapped in a package that may strike a chord with fans of the "Avengers" film franchise. Amazon's product description summed it up thusly:

An abomination, long thought buried, has resurfaced in a war-torn land. But now it wears an American flag. Faced with another nightmare reborn, Captain America will not stand for yet more death at the hands of a ghost from his past. Haunted by his greatest shame, Thor must renew the hunt for a familiar beast. At their side, an assemblage of allies united to end the threats no one of them could face alone. They are soldiers. Warriors. Comrades-in-arms. Mighty heroes led by a living legend, stronger together than apart. They are the Avengers.

 Avengers: Endless Wartime is bookended by an introduction from Marvel's The Avengers star Clark Gregg (better known as "Agent Phil Coulson") and an afterword from the legendary Stan Lee, co-creator of this blockbuster super hero team.

Avengers: Endless Wartime features special augmented reality content available exclusive through the Marvel AR app – including cover recaps, behind the scenes features and more, as well as a bonus digital edition redeemable for reading via the Marvel Comics app (for iPhone®, iPad®, iPad Touch® & Android devices) and online in the Marvel Digital Comics Shop, all at no additional cost!

Amazon has the book set for an October release. When reached for comment, Marvel promised more information would be forthcoming later today.