'VERONICA MARS' MOVIE gets Kickstarted! Already passed its goal. Boom! Dynamite!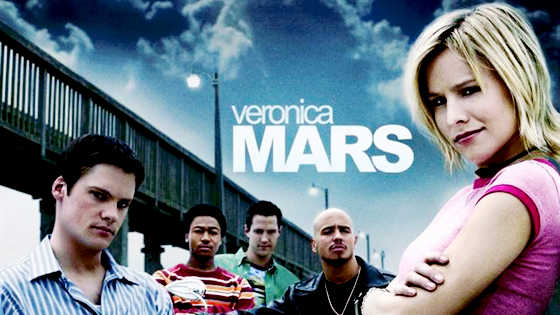 Man. I fucking needed this today. The local sports team lost one of its biggest players. Summer unemployment is looming. Google Reader is dying. Talk about stabbing my rot-gut. It appears I am not to fully despair, however. The Veronica Mars movie lives. Lives damn well. Today, series creator Rob Thomas and star Kristen Bell launched a Kickstarter to fund the son of a bitch, and ten hours later the goal had been surpassed. Well done, my friends.
As we reported just a few hours ago, Veronica Mars series creator Rob Thomas and star Kristen Bell have launched a Kickstarter campaign to fund their long-gestating film treatment with a goal of $2 million.  That goal has been reached in a mere ten hours, while it also set a Kickstarter record by drawing in $1 million worth of pledges in less than four-and-a-half hours.

As for Veronica Mars itself, the UPN series aired for three seasons becoming a cult and critical favorite.  The heavily noir-influenced plot followed the cases of a high school/college student moonlighting as a private investigator.  Now it looks as if there's hope for the feature film going forward…but at what cost?  Hit the jump for more.

You can head over to the film's Kickstarter pageto get more informed, take a look at the swag and even make a pledge.  Most of the pledges came in at $100 or less for various kickbacks if/when the project gets off the ground.  Surprisingly, most of the high-end pledges ($1,000+) were all spoken for, including a $10,000 spot that promised a speaking role of a waiter who gets to say, "Your check, sir."  Money well spent for one Veronica Mars fan apparently.  It's a banner day for all fans who used their money (or at least the promise of it) to influence the production of a major studio film before that film even comes close to a theater.

About that studio…Warner Bros. will reportedly be assisting with distribution, marketing, publicity and legal via Warner Bros. Digital Distribution, according to Deadline.  So where will funders pledges actually go?  Well, 5% of the money raised will stay with Kickstarter itself for nebulous fees.  Since WB is still the rights holder for the project, Thomas and Bell got their approval to go ahead and drum up interest via the Kickstarter service.  If they reached their $2 million goal, then the studio would sign on.