PRESIDENT PALMER joins 'SIN CITY: A DAME TO KILL FOR', replacing Michael Clarke Duncan.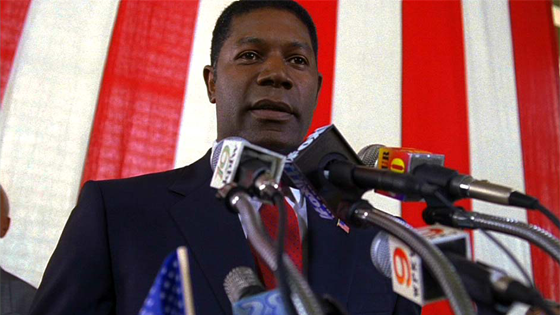 President Palmer up in this fucking house! Good dude is replacing Michael Clarke Duncan in Sin City: Things are Mysterious In Black and White. Glad to see someone is employing the dude outside of car insurance commercials and such.
Very few men could step into the very big shoes left by late actor Michael Clarke Duncan, who passed away earlier this year. In 2005, the actor best know for his work in The Green Mile and Armageddon played a bad-ass bodyguard in Robert Rodriguez and Frank Miller's film Sin City, which is currently shooting a sequel, Sin City: A Dame To Kill For. Duncan's role, Manute, plays a part in the film and unfortunately, his passing has forced the director to recast. Their choice is a great one, though: the former TV President of the United States, insurance spokesman and power-hitting Indian, Dennis Haysbert. Read the official statement and what the role will entail after the jump.

The Hollywood Reporter broke the news of the recasting. Here's what Rodriguez and Miller said about it:

Manute is a character that has been part of the heart of the Sin City tales, and the late Michael Clarke Duncan beautifully established that role onscreen. We could not tell the story of Sin City: A Dame to Kill For without Manute and are thrilled to welcome Dennis Haysbert to the cast.