[Interview] Jordie Bellaire – Color Your World!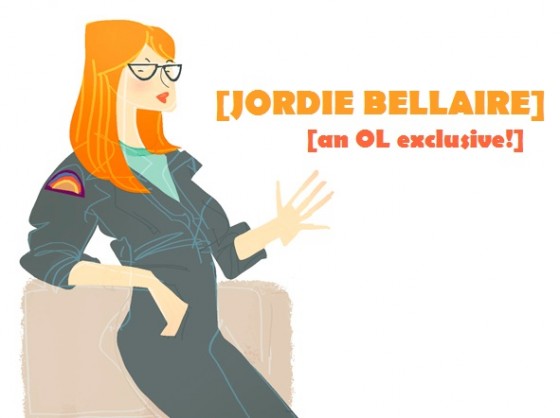 At its core, the comic book medium can be thought of as the combining of words and images so as to produce a cohesive narrative. As such, it's easy to understand why most comics are created not by a single individual, but by a team of creators. But even with this understanding in tow, most comic fans only acknowledge the prowess of their favorite writers, pencillers, and (occasionally) inkers.
Which is a damn shame, `cause colorists are the ones who truly bring the paneled pages to life.
In an attempt to better understand the role and responsibilities of a comics colorist, I reached out to Jordie Bellaire. As the colorist for MANHATTAN PROJECTS, HULK: SEASON ONE, and a slew of other projects, Jordie is making a name for herself as a sought-after and respected comics artist. Hit the hyperspace jump to check out her thoughts on her career thus far, the search for inspiration, and the challenges of being the last artist on a comic book's creative assembly line.
Put away your Crayolas and come read the thoughts of a genuine talent!
—-
– For those who're unfamiliar, what is the story of Jordie Bellaire? How did you arrive at this juncture in space-time (plutonium-powered mind rockets?!)? What're you hopin' to do now that you're here?
Well I started out going to Ringling School of Art and Design in Sarasota, Florida for college. When I began I was really interested in breaking into animation or comics somehow. I went into the major of illustration and realized I probably wasn't cut out for comics. Towards the end of my senior year, a lot of faculty were telling me how I should go into comics and get into comics, it was really strange for me because I was use to be like, "Pff, comics aren't my thing I guess I'll just illustrate and try to be an amazing illustrator for the rest of my life."
So after I graduated, I did a few freelance illustration gigs including illustrating a book of dirty poems by an eccentric nudist and portraits for a Russian tech mag. I moved to New York City, met Declan Shalvey and he was all like, "Why aren't you trying for comics?" pretty soon, I took a stab at coloring comics and kinda got into it from there. And I guess–I'd like to return to illustrating comics someday, not just coloring every day. I miss drawing a lot! Now all I have time for are stupid, horrible doodles.  
– What does the average day of a comics colorist look like? I'd like to imagine that your workday consists of blastin' rock & roll at full volume, drinkin' copious amounts of coffee, and injecting life into paneled pages. Does this assumption have to be disabused? 
That's pretty much exactly what I do. I wake up around 10-12, make a cup of coffee, get to coloring and color 'til around 3. Normally I take a break and eat some lunch–lately I've been watching Parks & Recreation with Dec to make sure we keep it short. After that, I color and color until around 8 or 9, then eat some dinner. Then I saddle up for coloring 'til 3 or 6 AM! I watch a lot of X-Files, listen to audiobooks (preferably horror audiobooks) and we listen to some podcasts while working in the studio. Basically, I do this every damn day. It's pretty miserable, I have no life! I'm a huge lamer.
– You've been the colorist for the last few issues of MANHATTAN PROJECTS, a science-fictional reimagining of the endeavor to create the first atom bomb. Color has been a central component of this title's visuals, with evil doppelgangers and alternate dimensions being differentiated via shades and hues. Could you describe what it's been like to be a part of this team?
I signed up on the third issue after being sought out by Hickman himself. Brubaker put him onto me after I did a color backup with Bettie Breitweiser on WINTER SOLDIER (which was a huge honor, I love that title). Hickman had a very particular idea for the visual beats of the book so I just try and make his magic work. Pitarra is clearly essential as his art is extremely particular and unique. Normally I communicate with both of them but really, I just wing it and hope they like each issue. Right now I'm going over issues 1 and 2 for the trade (since the first two issues were colored by different colorists) and I just feel so lucky to be on the book. It's such a flippin' strange and weird title. I still worry the boys might break up with me though because it's just a high speed sci-fi mind bender. I'm not worthy!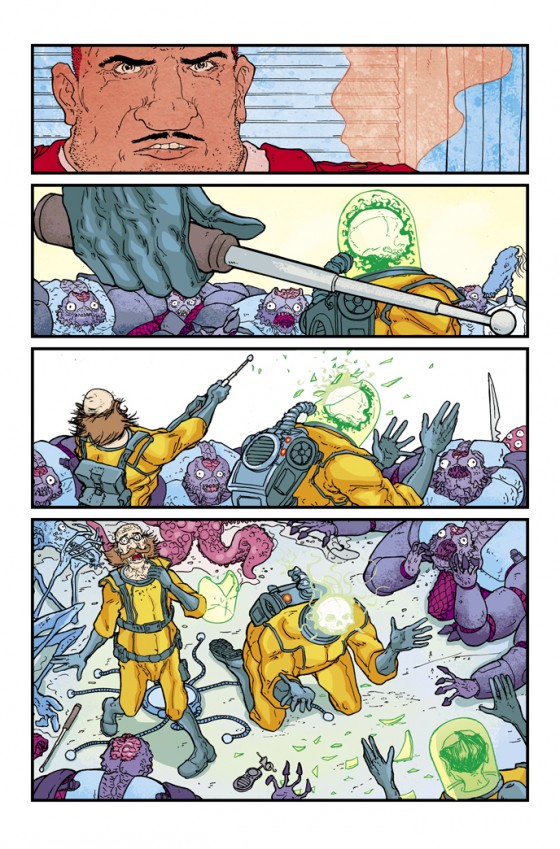 – The comic book industry seems interesting in the sense that its demands generally necessitate an entire team to create a book. As a colorist, to whom do you take your creative questions? The writer? The penciller? The inker?
As a colorist I'm at the end of the production line, which means I hear from EVERY person on the team! Editor, writer, artist, pencillers, inkers and then plus the friends they show to get a critique on a title. I have to take notes from just about everyone. The biggest and most important person to me out of that list is MAINLY the artist, though. Colors really make or break a book, seriously, they do–and if an artist isn't happy or if they feel like you're hurting their artwork that is a SERIOUSLY important note. I strive for the artist to be at least 80-85% happy. I also strive to be my best. I hope I'm my best.
– Why comics? Why not lend your talents to the world of graphic design, or some other (ostensibly) more lucrative field?
I'm really happy and live within my means actually! I was a small-town, impoverished southern girl living in New York City for the past year and I ate once every three or five days–the freelance illustrator out of college deal. Working in comics with monthlies and the luck and love of so many people helping me get more work. I have to say I'm doing fairly well! I do want to move on to illustrating my own comics and probably even somehow find myself in films eventually. Whether or not my role in filmmaking will be technical (lighting) or more creative (storyboarding, design), I'm not sure. That's the DREAM.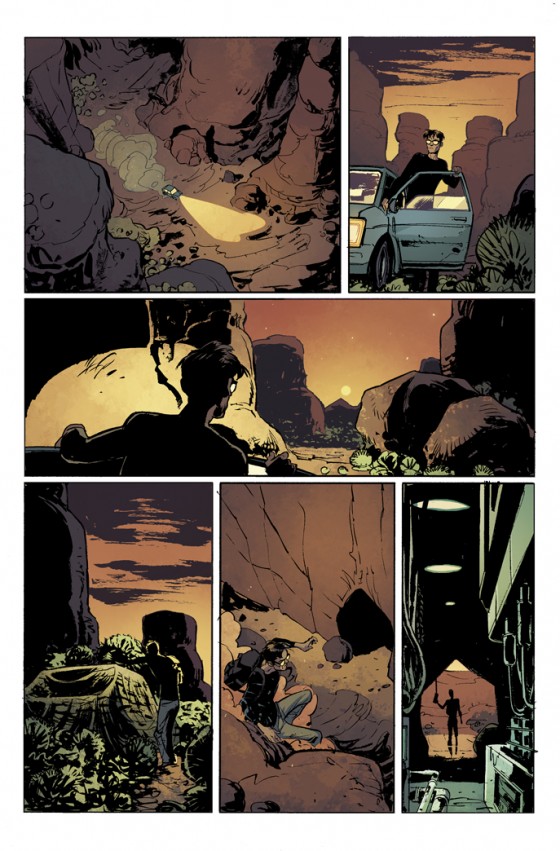 – You have an impressive array of credits, ranging from niche books like BETRAYAL OF THE PLANET OF THE APES to industry-staples like FANTASTIC FOUR. How do you determine which comics you'll work on?
I'm super duper fortunate to have great, great pals in the industry. I have been asked or maybe gently asked for something and generally received it. Tom Fowler's HULK: SEASON ONE book–he asked for me. Emma Rios's DOCTOR STRANGE: SEASON ONE book–she asked for me. Chris Samnee's ROCKETEER–he asked for me. I'm not sure what drugs they're on, but uh…I hope they are safe-ish and continue to make them think I'm great.
– Which comics artists do you currently look to for inspiration? Which titles are you currently reading?
I guess I'll focus on colorists here: Bill Crabtree, Dave McCaig, Matthew Wilson, Bettie Breitweiser, Dave Stewart,  Dean White, J.P. Leon, Matthew Hollingsworth, Dan Jackson.
I really dig ANGEL & FAITH, WINTER SOLDIER, CONAN, B.P.R.D, UNCANNY X-FORCE, SAGA, PUNK ROCK JESUS, SIXTH GUN, LOCKE & KEY (which I'll miss DEARLY) and probably a bunch of others I can't even think of right now.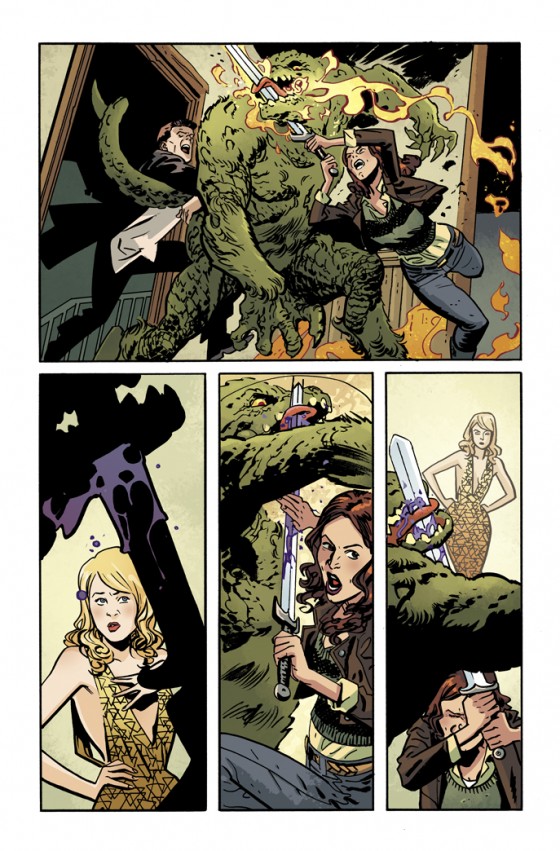 – Outside of the comics-realm, what inspires you? Music? Film? Video games? A large pizza and a bottle of bourbon? 
Pizza is my biggest inspiration. No, no–really, I love film. Film, film, film please. I could go on and on forever but I'll spare everyone. Mythology, Demonology, video games. Recently I was playing through Professor Layton again and looking at those character sprites and I was like, "Jeez louise, I have gotta make a damn game already and make some kick-ass amazing, extremely charming sprites."
I'm a big dreamer. Yep.
– What advice would you offer to those aspiring artists and writers who're interested in creating comic books?
Get FOCUSED. Please quit being a big ol' Debbie Downer and not working on anything or just trying to sail on good fortune or something, work your ass off to get what you want. OR don't be an arrogant, over confident jerk. It might get you places but goodness, no one will ever wanna work with you and your creative teams mean everything. AND don't over shop yourself! Let your work speak for you. I think something that a lot of people do is attempt to "oversell" themselves…bringing their portfolio to dinners with creatives at a convention or something. Comics people are REALLY just like everyone and super duper lame just like everyone too, I promise.
You should be yourself,  hone your skill for whatever field you're interested and just own it. At Ringling, Nathan Fox gave a great talk to my senior class one day, he said something along the lines of, "Find one thing you want to do and just fucking kill it. Make it yours and fucking own it." True words. Live by them.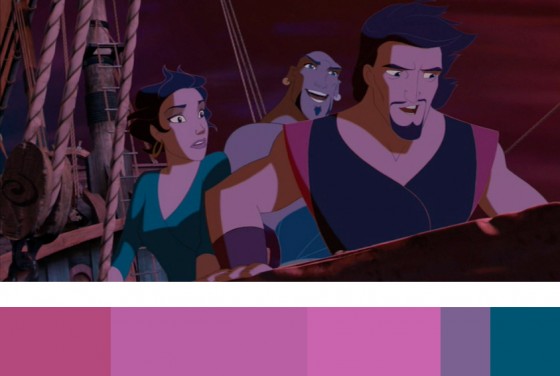 – Any final thoughts? Convention appearances you'd like to promote? Prints-for-sale we should know about? An emphatic rant you need to get off your chest? This is your space to use as you see fit!
I should be at Thought Bubble in Leeds and NYCC this fall. No prints! I'm sorry. Buy all my new books though! Get DOCTOR STRANGE and HULK [Season One]! ROCKETEER: CARGO OF DOOM! MARA by Brian Wood and Ming Doyle! NOWHERE MEN by Eric Stephenson and Nate Bellegarde! Keep buying MANHATTAN PROJECTS because it's the weirdest book you'll read this year!
I would also ask that you guys check out my tumblr for a small thing I do once every two weeks or so called "Hey, nice palette." I take a film, break it down into 3-6 palettes and show how the film achieves its mood, tone and clarity through extreme use of color. I also drew you a doodle of me filling out this interview: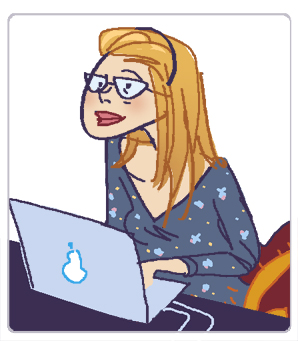 –-
Follow Jordie Bellaire [

Tumblr

] [

Twitter

]