Before The Fight, ANDERSON SILVA and CHAEL SONNEN Face Off…In A Comic Book.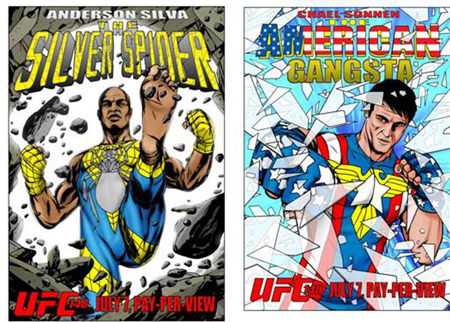 I've been awaiting the Silva/Sonnen rematch for a good amount of time. Differing from most of my friends, I find Sonnen to be a bit of a douche. I've been biding my time, and god dammit I hope to see him get ass laid out. Overeager and ready to watch, waiting for Saturday seems an interminable amount of time. Thankfully, uh, I can spend some of it reading a comic book about them.
To promote the July 7 rematch between Chael Sonnen and Anderson "The Spider" Silva, Ultimate Fighting Championship has cast the pair in a comic that's been running on the UFC Facebook page. They've been using a superhero theme for some of the images, like the ones above — Sonnen seems to be drawing from Captain America a bit, while Silva, a Spider-Man fan, is all in with the wall-crawler. The comic itself, however, hasn't featured the duo in their superhero outfits, but instead has shown the them training — and trash-talking — as they prepare for their big showdown. You can find one of the panels from it below, and check out Facebook to see the ongoing tale.
Bit of an interesting idea. Not sure the cultural crossover, though I suppose this very website disproves my point.