This PIZZA HUT PIZZA Has F**King HAMBURGERS On It. No, Srsly.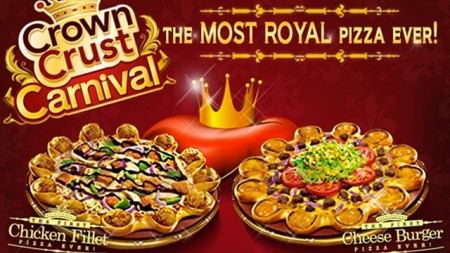 Look at this friggin' madness. The various Pizza Huts of the world are upping their game. First it was the Pizza Hut UK claiming hot dog-stuffed crusts. Now  Pizza Hut Middle East is smashing hamburgers on top of their fucking pies.
It just keeps getting weirder. I mean, at this point, you'd almost think Pizza Hut was trying to get out of the pizza game entirely. First there were  hot-dog stuffed crusts, now they're rolling out burger-studded pies.

Per the Pizza Hut Middle East's Crown Crust Carnival commercial, the Crown Crust Burger is made with "perfectly grilled mini-cheeseburger gems, nestled in golden crown crust." This is already silly because if you want a burger, just order a burger. (And if you want a pizza, you're not going to order this.) But it doesn't stop there. The beef-bejeweled crust is then topped with  morebeef, lettuce, tomato, and Pizza Hut's "special sauce." It's not even pizza anymore. It's a large burger-cradling bread with a deconstructed version of itself in the middle.