'The Image Revolution' Documentary Almost At Funding Goal; KICKSTART THIS SH*IT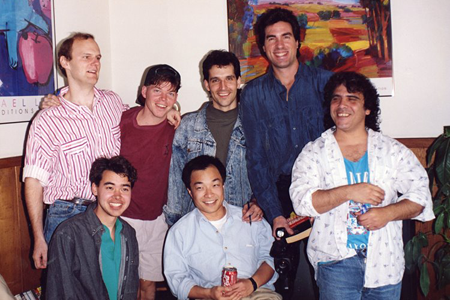 The next effort from the minds behind the Grant Morrison and Warren Ellis documentaries are trying to kickstart the shit out of a work on the founding of Image Comics. They're getting close, and now we just need to collectively finish the fundraising off. We can do it, yooooooo.
Hit the jump for details and a new trailer.
Founded on February 1, 1992 by Erik Larsen, Jim Lee, Rob Liefeld, Todd McFarlane, Whilce Portacio, Mark Silvestri and Jim Valentino as a means for those popular creators to produce and publish their own original work while retaining full ownership of their intellectual property. The original Image line included such memorable hits as  Spawn,  Youngblood  and  WildC.A.T.S., and the 20 years hence have seen the founders re-shape the American market by becoming publishers and studios in and of themselves. Lee was particularly influential, going on to become co-publisher of the mighty DC Comics and overseeing an aesthetic overhaul of that storied company that left it looking quite a lot like the Image line of his generation. Also crucially, Image made itself more than a boutique publisher by engaging creators from other genres and styles, names like Matt Wagner, Mike Allred, Jonathan Hickman, Kieron Gillen, Jamie McKelvie, Matt Fraction, and of course Robert Kirkman, whose success with the publisher saw him become its first new partner since founding.

The Image Revolution  seeks to document this story in the form of interviews with the principals as well as others like, possibly, Tim Callahan, one of my favorite comics critics, author of  Grant Morrison: The Early Years, and integral talking head in Meaney's Morrison documentary. Whether Callahan will contribute to  The Image Revolution  has yet to be determined, but for a limited time he actually matched backers' donations to the film and wrote about why on  his personal blog:

I donated money to help fund the project because I know how Patrick and the guys at Sequart operate. I know Julian Darius and Mike Phillips (and friends) have constantly invested their own money into projects, before even asking for a penny from anyone else. I know for a fact that I was paid royalties on my books before those guys even made any kind of reasonable profit from the sales. They reinvested whatever money came out of those early book projects to fund other books, and, later, movies, that had no real shot of making any kind of money. They did it to get more people involved. To grow the brand, not to become rich, but because they wanted more people to say and write and direct cool, interesting things about comic books.

So, know this, if you're ever faced with donating to help a Sequart or a Patrick Meaney project: the money goes right into helping make the project happen, along with whatever personal money everyone involved can scrape together. And they will do right by you, because that's just how those guys are.