Tom Cruise CONFIRMED For 'Top Gun 2' Homoerotic Jet Ownage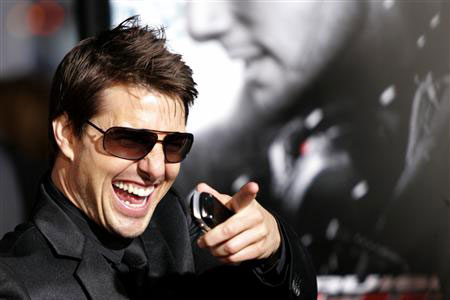 Maverick flies again, motherfucker! Top Gun 2  is going to cruise (ha!) on into existence, and Tommy Xenu will be present.
Every year since 1986 has just been another year wasted without a movie about fighter jets and the oversized pairs of aviator sunglasses that fly them. But the long national nightmare is over, as rumor has it that Tommy C. will be playing the role (the starring role) of an  F-35  test pilot in the upcoming sequel to Top Gun, which is probably not called  Top Gun 2: They Wouldn't Let Us Use F-22s.

Normally we don't write about Tom Cruise rumors around here, but since this one comes straight from Lockheed Martin's F-35 program manager, we're willing to let our imaginations run with it for a little bit. Apparently, a production crew will be visiting a Lockheed flight test center in Texas within the "next month or so" to begin filming airplanes in action, even though there are zero more details (not even a title or unofficial release date) to be had.

Since the F-35 is a single seat aircraft, it seems unlikely that Goose will be resurrected by an experimental DARPA zombie pilot program, but we'll keep our fingers crossed anyway. Plus, the fact that F-35 can land vertically makes coffee-wasting high-speed passes above the runway somewhat less likely. All that really leaves to look forward to is half-naked oiled up volleyball, and the question of who Maverick is going to be shooting at and what they're going to be flying.

In our fantasies,  Top Gun 2: Top Gunnerier  will pit F-35s against either  Sukhoi T-50s  or maybe one of those  scary-looking unmanned MiGs. What's more likely, though, is that Maverick will have to put up a heroic fight against government procurement contracts, rampant cost overruns, and fundamental design flaws, bringing a new meaning to "Danger Zone." Bring the popcorn, this is gonna be mediocre.
This is going to be fantastic. I can't wait until the movie gets super-edgy and has Goose and Maverick hug it out in the shower, after they go years without talking. They find their common ground. Just bros. Just bros.