Funny Books We Snagged This Week: Bruce Wayne Is Like All F**ked.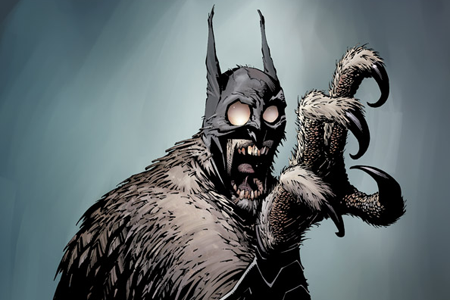 Here at OL, the regular lead regular lives. Sometimes that sheezy gets in the way of timely column posting, and for that I hope you forgive us. Tuesday is the typical day I churn this pig out. As is evident, I did not. After getting home from a  day on campus at 10:00 pm, I lived the life of a winner. Which is to say I ate a burrito, an entire bag of Sweethearts, and went to bed. A caloric nightmare.
Let's party anyways. This is Funny Books We Snagged This Week, the column where we gather together and share our choice choices in the comic book world for a given week. Don't know what is coming out (I suppose came out)? Visit ComicList.

—-
Batman #6
I know that I'm becoming a bit of a broken record when it comes to the Snyder/Capullo relaunch. What do you want me to say? Their run on Batman  has become one of the rare titles that I simply *cannot* fucking wait to blow through upon arriving home from the Funny Book  Dispensary. I need my medicated bliss! Equal parts haunting and humorous, Snyder has thrown Wayne through some serious shit. Now lost within the underground maze of The Court of Owls, we're getting some fun psychological riffing on what makes the Goddamn Bruce Wayne.
Am I alone in my revelry for this title? Are you not even experimenting with it? Not even the tip?
—-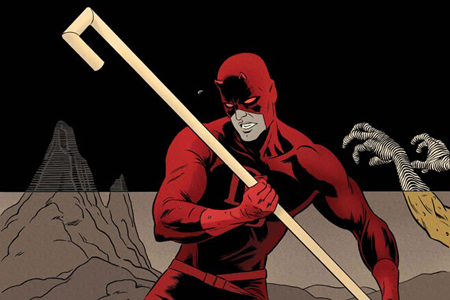 Daredevil #9
I read the first issue of Waid's Daredevil  relaunch before petulantly launching it into a nearby creek. What the fuck was this shit?!, I commented to myself. I like my Murdock with a heavy dose of Existential Angst. Pondering the Oblivion and not finding any reason to not embrace it. Waid was bringing a lighthearted tip, and I was revolted. Call it a momentary flare-up of my fanboy glands. Since the initial Creek Chuck, the praise has mounted. People have declared it delicious, nutritious, and eminently readable. My glands' swelling began to recede. Yesterday I bought the ninth issue, and I'm going to give it a second chance.
Let's see.
—-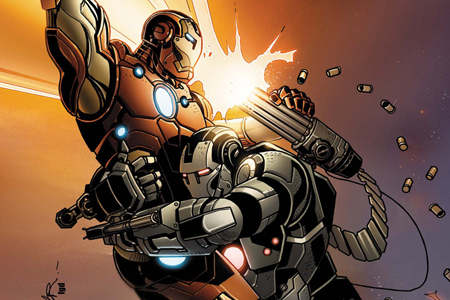 Invincible Iron Man #513
Someone hit the button on whatever sort of recording device you have. I'm about to critique Matt (my binky) Fraction. Insanity, right?Linsanity?  As solid as Iron Man  has been every single month for quite literally years, they've gone into official wheels-spinning mode. Tony Stark punches some Iron Men of Differing Degrees while being complicated and incapable of controlling his own technology while Rhodey chastises him before helping out. I get it. I get it.
Here's hoping the Mandarin brings some heat to the storyline. Fraction's been building up to it forever, and the five-hundredth issue was a glorious tease at the future.
—-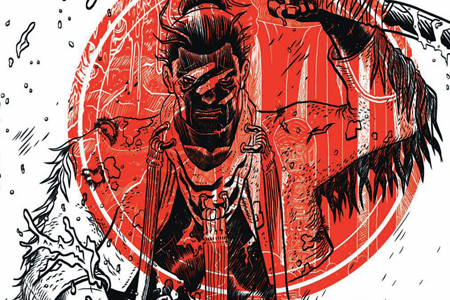 Sacrifice #3
I've been raving about Sam Humphries and Steven Sanders' one-off Our Love Is Real  for months now. Simultaneously, I've been bemoaning that I haven't been able to get my greasy paws on Humphries' new self-published mini series Sacrifice. Today!, my brain had a revelation. My fat-synapsed Nonsense Box had a moment of genius. The comic is available digitally. Finally! The Girlfriend's iPad is going to be useful for more than whupping my ass in Words With Friends.
Imma go ahead and snag all three issues tonight on the Glory Tablet. I've heard only good things (with OL regular MORS talking it up to High Heaven), and my dork-groin beats against the confines of boxer briefs in anticipation.
—-
I also snagged Wolverine #301, but that was more of a cursory snag for Rendar. I may check it out while on the Throne, but otherwise it's at the bottom of my reading queue. What did you fair souls snag this week? Hit me.