Star Wars-Themed Van For Sale On eBay. Shaggin' Wagon Skywalker Style.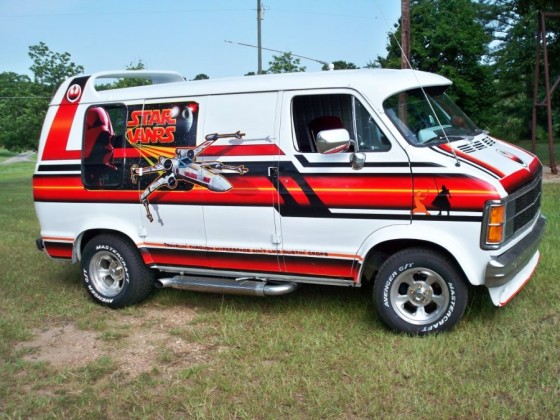 Oh Lord the shit I would spend my money on if I had a ridiculous disposable income. I can't think (at least in this ill-formed moment) of anything more I want than this heinous Star Wars van, and it could be mine. If I had the cheddar.
This Star Wars themed van would have gotten you soooo laid in 1978

And it's being sold on ebay:

YOU HAVE NEVER SEEN ANYTHING LIKE THIS BEFORE. If you do a Google image search for Star Wars Van this comes up on the front page. (woops, I just checked again and it turns up on the SECOND page.) Graphics were professionally designed and installed. Detail is excellent and there is absolutely NO FADING! This van started out as a lovingly cared for custom van. When I got it the headers, flares, front spoiler, and dash tach were still there. I am only the third owner. It had a custom interior at one time but much of it had been removed and the van had sat for a while. It came with lots of spares and ran great. It was the perfect blank slate…….. THe force was with us. [I Heart Chaos]
Buy it for me right here. Do it. It'll be the perfect vehicle for a gaggle of OLytes to cruise the streets in, you know, freaking everyone out.