Gareb Shamus Resigns As President Of Wizard World. Childhood Weeps.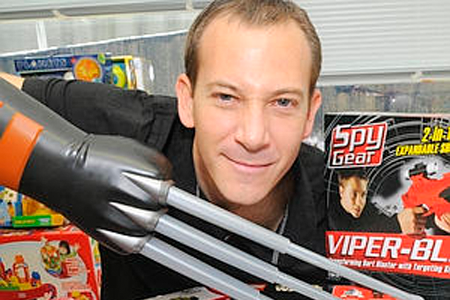 …And so they fall! Gareb Shamus used to be a beast of the comics world, running the ubiquitous Wizard World magazine. God, I loved that son of a bitch back in the day. Now the man is within castle nor throne, nor magazine. He has resigned as president of the entire enterprise.
Gareb Shamus, divisive founder of the once-influential Wizard magazine, has resigned as president and chief executive officer of Wizard World Inc.

The publicly traded company announced the move in documents filed Thursday with the U.S. Securities and Exchange Commission. "The resignation is not the result of any disagreement with the company on any matter relating to the company's operations, policies or practices," Shamus wrote in his two-sentence letter of resignation.

Michael Mathews, the former CEO of interclick inc. who joined Wizard World in March as chairman, will oversee the day-to-day operations of the company until Shamus' replacement can be found.

Shamus founded Wizard: The Guide to Comics in 1991, overseeing the rise of a magazine whose prosperity was inextricably tied to the speculator boom it helped fuel with its price guides, creator hot lists and enthusiastic coverage of new publishers like Image Comics and Valiant. By 1997, Wizard Entertainment had added Inquest Gamer and ToyFare magazines and extended its reach with the purchase of Chicago Comicon, later rebranded Wizard World Chicago, setting the company on its long, and occasionally rough, path to becoming a major organizer of regional conventions (earlier this year Wizard World briefly trumpeted 12 cities before slashing that number to eight).

However, the following decade wasn't as kind to Wizard or the comics industry, with the magazine seeing its circulation dwindle to about 17,000 copies by December 2010. A month later, Shamus abruptly announced the closing of Wizard and ToyFare, the company's last remaining magazines, and the subsequent launch of an online magazine, a move he later characterized as "the smartest business decision I've made in years."

But about two weeks ago, the digital magazine that Shamus had boasted reached "millions of people" apparently disappeared from the Internet, just about the time that its founder launched a blog on the Wizard World site. Now that, too, is gone. His new Twitter account remains – although he hasn't written an update since Nov. 28.
Rest in peace, sweet prince. Let us all pull out a copy of Gen 13, and think of the golden days when the magazine would have had nine different variant covers promoting the comic.