Andy Kubert To Join 'Action Comics' In January.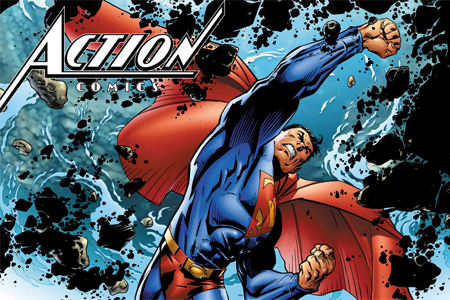 Andy Kubert be jumping on the Action Comics train in January for a quick trip with Mr. Grant Morrison. Nice!
New York Comic Con is still four days away, but the news blitz expected to accompany the last big convention of the year has already started in earnest.

DC Comics announced today via a story in the New York Post that artist Andy Kubert, fresh off the universe-changing "Flashpoint" event, will join writer Grant Morrison for a two-issue stint on "Action Comics" starting with January's #5. Regular series artist Rags Morales will be back for issue #7.

"When Editor Matt Idelson asked if I would be interested and/or able to fit into my schedule two upcoming issues of Action Comics with Grant, I couldn't say no," Kubert told DC's The Source blog in a follow up post. "I don't know of any other artist that would have. Drawing the latest incarnation of Superman and working with one of the best writers on the planet made it a very easy decision for me. And in this story, I get to do some VERY iconic stuff! I gotta admit, I'm a little nervous… Fun Fact for those keeping score: I had never drawn Superman in a comics interior for an entire issue. I had done inking over Dan Jurgens and Jerry Ordway for an issue each over their beautiful pencils way (and I mean WAY) back when but this is my first opportunity to pencil the Man of Steel interior pages for my very own!"
As antithetical as it may be to say, the Kubert brothers are two lads who rose to prominence during the 1990s that I much enjoy over the likes of all the Jim Lee clones. While I consistently forget which brother I prefer, the arrival of Andy on Action Comics is a welcome addition. I ain't a Morales fan. Sry! Sry.