Lucas Shuts Down Fan 'Star Wars' Marathon. He Is All That is Douche.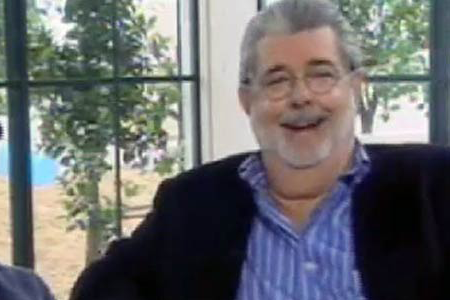 George Lucas is walking proof that I can separate my love for a creation from they who created it. While I love the OT with all my little heart, the doucheability that Lucas possesses knows no fucking bounds. Really, Georgey? You had to shut down a fan run Star Wars marathon? Jesus Christ.
A planned 13-hour marathon of all six Star Wars films at a bar called The Wicked Monk was scuttled this week when screening organizers were given a cease-and-desist order by Lucasfilm lawyers. The letter also slammed organizers for unauthorized use of Star Wars logos and artwork in their promotions. Needless to say, the fans were caught a bit off guard.

"God forbid a few people in Brooklyn want to get together and watch the movies – that we paid for!" said organizer Mike DeVito in an article in The Brooklyn Paper. "I think [Lucas] has become worse than [Darth Vader]. Darth Vader is at least redeemable."

DeVito and his co-organizer Bianca Sunshine have spent two months promoting the event, and say that they weren't look to make a profit by screening the sci-fi saga. In fact, admission was free and the only cost to people attending were the Star Wars themed drinks and the $1 raffle tickets. Interestingly, Sunshine puts on a regular screening at The Wicked Monk highlighting cult classics like The Warriors, The Outsiders, Clockwork Orange and Kill Bill, and has never before been hit by legal paperwork for her efforts.
The Royalty must die!
Via.