BSG Composer Bear McCreary Scored the Shuttle Launch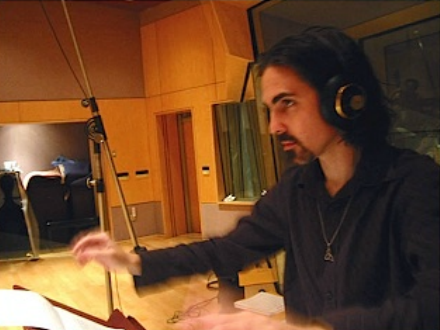 That's all she wrote, ladies and gentlemen.The curtain closed on America's greatest achievement yesterday with the final shuttle launch in U.S. history. I was about 11-10 miles away and it was hard not to get emotional as the Atlantis disappeared behind the cloud line; leaving behind an enormous trail of exhaust and history in its wake. And my god, the sound wave. It took about one minute for the sound wave to hit and once it did, it shook me something fierce. But what I wish I was hearing at the time of launch was Bear McCreary's "Fanfare for STS-135."
File this under "Greatest Collaborations of All Time." Battlestar Galactica composer Bear McCreary was asked by NASA to score the final shuttle launch. I know, it's one of the most perfect things I've ever heard. It played during the NASA launch TweetUp event (whatever that was) and was also pumped throughout the Kennedy Space Center. From Bear's blog:
Making the musical leap from science fiction to science fact is truly humbling.  I was thrilled for the opportunity to help honor the brave men and women who risk their lives to push the boundaries of human exploration.  In particular, this composition is dedicated to the space shuttle Atlantis crew of  Commander Chris Ferguson, pilot Doug Hurley, and mission specialists Sandy Magnus and  Rex Walheim.
A downloadable version will be available in the fall, but for now, here's a (very) brief clip from the piece. I cannot wait to hear this thing. I can't count the number of times Bear's score alone on BSG made me well up (see below).
You can read the NASA press release here.