Trent Reznor Talks About His Role In Abraham Lincoln: Vampire Hunter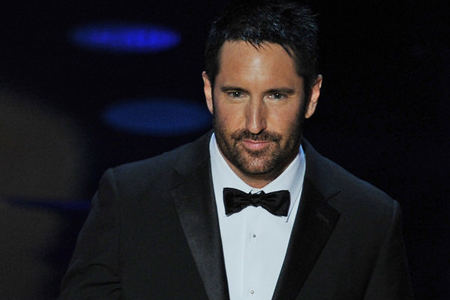 Thanks to the internet, information travels quickly. Like, really quickly. Which is why despite  Trent and director Timur Bekmambetov wanting to keep it a secret, every disaffected emo fanboy and fangirl of Reznor knows that not only is he scoring Abraham: Vampire Hunter, he's also acting in it. Reznor took to the NIN forums to comment on the insanity.
And finally, I am friends with Timur Bekmambetov. He's an interesting and very talented director that caught my attention with his film Night Watch (check it out if you haven't). He asked me if I was interested in scoring his new film he's doing with Tim Burton entitled "Abraham Lincoln: Vampire Hunter". I was familiar with the book, read the script and it felt like an interesting challenge as a composer — very different from the Fincher films. While discussing the film with Timur he started gently pressing me to play a small role in the film. The idea was a cameo-esque role that would be kept under wraps and be a surprise around opening night. I was considering this when I awoke a few days ago to the news I am now STARRING in ALVH (which is obviously not true). Fuck. We both apparently forgot the internet existed AND THERE ARE NO SURPRISES anymore.
The internet ruins all. I am a  perpetrator  of this problem. Burn me at the stake!