CAGE MATCH: The Week in Nic Cage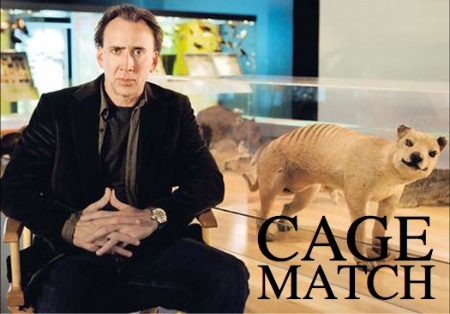 Welcome back, carnivores of taste, to another edition of Cage Match, the only weekly column in the universe completely dedicated to Nicolas Cage. In last week's exciting episode, we were visited by Mr. Cage's brother, Christopher Coppola. We were honored to have Mr. Coppola, aka the DigiVangelist, who visited our comments section and turned out to be even cooler than he looks in his pictures. That was definitely a watershed moment in my fandom.
But let's stay grounded and get back to the task at hand: reporting awesome Nic Cage related shit. The biggest nugget dropped yesterday when a video hit the net of Cage exhibiting some real-life Cage Rage outside of a nightclub in Bucharest. I've heard people yell some pretty wild shit when they get furious, but Cage takes it to another level. He could have been a speech writer for the Ultimate Warrior. There's some more Season of the Witch clips, the lowdown on a confirmed new role, and tax drama, Cage-style!
Real Life Cage Rage Outside of a Bucharest Nightclub
If you thought his on-screen insanity was impressive, you should see how Cage throws down in real life. He's in Romania finishing up photography on Ghostrider 2 and a couple days ago he verbally bitch slapped a man outside of a Bucharest nightclub. By "bitch slap" I mean he went on a tirade and yelled things like:
"You know it! So do not try to escape! Otherwise, you kill me? F**k you! I die in honor! I could die right now! Want to hit me?"

"Look in my eyes! I'm not a liar! That man is a liar!"

"Get in the car! I'll die in the name of honor!"
…and people say chivalry is dead. No reports yet on what set Cage off but the guy probably deserved it. Now, will some computer savvy individual please re-edit the classic Cage Rage video to include this song. (via FilmDrunk)
Mo' Cage news after the break!
Four Season of the Witch Clips; Christopher Lee Has Something on His Forehead
DreadCentral posted three new clips from Season of the Witch, the long-awaited Black Death versus Cage movie coming out January 7th. There are four clips in total – one being the "Wolves!" one from IMDB we featured last week. Above you can see Cages character trying not to vomit over the heinous tumor on Christopher Lee's forehead. Gross!
How do you guys feel about this one? I'm mildly excited. Cage probably doesn't get to flex any moments of insane genius, but I love the Black Death. My college advisor was a Black Death scholar (what's up, Dr. Vinson!) and it's one of those game-changers that doesn't get enough love in popular history.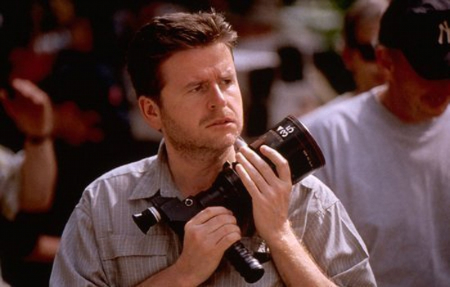 IT'S ON: Cage and Director Simon West to Reunite for Medallion!!!
Commercial director Simon West first hit the big screen in 1997 with the action-cheese classic Con Air. Cage's role in the film as Cameron Poe has become one of the classics in the Cage Canon – baffling accent and all. Now, they're reuniting for Medallion, a thriller in the vein of Taken. The Hollywood Reporter (a movie news source that's actually reliable) states that Cage will play a retired thief whose daughter is kidnapped and locked in the trunk of a NYC Medallion taxi cab. Those are the yellow, checkered cabs everyone associates with NYC, in case you didn't know.
Millennium Films is   bankrolling, which bodes well for fans of the batshit performances of Cage. Millennium previously financed The Wicker Man and the upcoming Drive Angry. Both films allowed Cage to do his thing and have fun. So here's hoping we get a taste of the mad genius in Medallion. Not to mention that Taken was one of the best movies of last year. I'll gladly fight anyone who thinks otherwise.
Cage Pays $360,545 in Back Taxes
But don't worry, he's still rich! That only leaves about $1.5 million he owes…I think. Cage filed a lawsuit in October 2009 against his former business manager Samuel Levin, whom Cage claims led him "down a path of financial ruin." According to sources close to Cage, Levin was often seen perched atop Cage's left shoulder, whispering powerful suggestions in his ear such as "you can alwaysssss use another castle" and "21 carsss isss not enough." For more info on The Adventures of Cage and Levine, click here.
In all seriousness, I'm not going to pretend I know about managing money over the amount I currently I have in my bank account. Being the business manager of an actor who makes about $20 million per film must be kind of hectic – especially when he's got a taste for cars, castles, and comics. But Cage should know better. You're 46-years-old, dude, and you have a family. Cut the reckless crap.
Sorry to get so real in that last paragraph. To make up for it, here's a still from Snake Eyes (1998)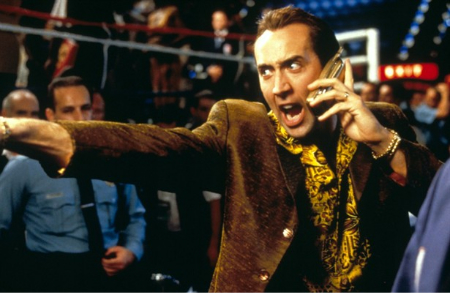 CAGE MATCH CAGE MATCH CAGE MATCH CAGE MATCH CAGE MATCH CAGE MATCH CAGE MATCH CAGE MATCH CAGE MATCH