Big Green Priapisms! Guillermo Del Toro And David Eick Are Creating Hulk TV Show For Marvel.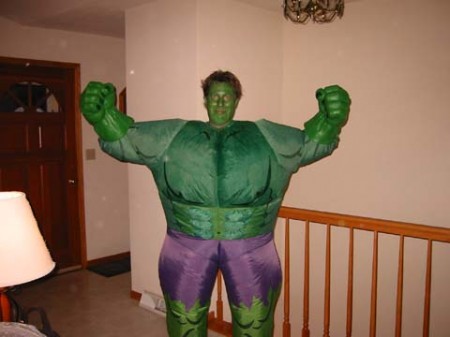 What a fucking confluence of awesome is coming together in Hollywood. As we speak. Or maybe, it happened a couple of hours ago. But somehow, something out of a nerd wet dream has occurred. Motherfucking Guillermo Del Toro of Hellboy and Pan's Labryninth and of course fucking Blade 2 fame is teaming up with David Eick, the executive producer of my eternal television orgasm Battlestar Galactica to create a new live-action television show based on the Hulk.
Fuck yes to the fuck yes! It was rumored a couple of months ago, and now this son of a bitch is confirmed.
Details of the premise are sketchy but I hear that the series will follow an origin story. In it, physicist Bruce Banner, whose alter ego is the green and raging Hulk, will be in his mid-twenties, less reactive and more energized as the world is still his oyster. Unlike the two Hulk movies, in which the monster was a pure CGI creation, the series will employ a mixture of prosthetics, puppetry and CGI. Del Toro and Eick will break the story for the pilot script together, sharing story and created by credit. Eick will write the script, with del Toro attached to direct subject to his availability. Del Toro will also oversee the designing of the Hulk character, which is expected to draw on previous comic book incarnations, as well as the original 1978-82 Incredible Hulk TV series, with a few wild tweaks on the old look.
I find this wildly arousing. Del Toro is a straight-up panic attack excitement guru in my world, and Eick has guided one of my favorite franchises ever. It's particularly exciting, given the fact that they're going to take a prosthetic approach to some of the Hulk, and if there's one thing Del Toro can imagine, it's fucking monsters. I've always secretly jerked off to the notion that his eye for creatures could be directed towards some sort of Star Wars flick, but fuck it, I'll settle for this.
Thoughts? Impressions? Hit the comments box with your take.