'COWBOY NINJA VIKING' writer A.J. Lieberman dropping "Medical-Grade Revenge" in 'HARVEST'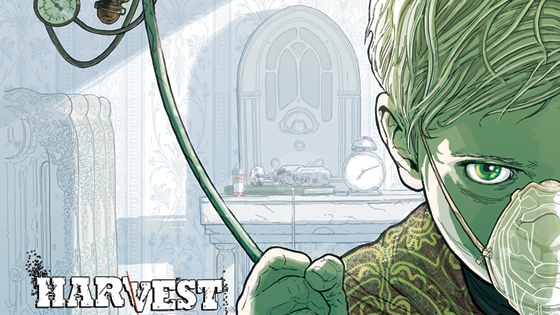 I loved the shit out of A.J. Lieberman's Cowboy Ninja Viking. In fact, I wasn't even aware it was cancelled for a good amount of time, and when I found out I was so incensed I was forced to eat my trades of the comic and harvest its soul. Speaking of Harvest, it is also the title of Lieberman's next work at Image. Oh shit segue, son!
Image Comics has wheeled out the first teasers for  Harvest, the upcoming Shadowline miniseries from writer A.J. Lieberman (Cowboy Ninja Viking) and artist  Colin Lorimer  (Dark Horse Presents) set in the shadowy world of illegal organ trafficking as Dr. Ben Dane decides to steal back what he's implanted.

"I had always wanted to do a really sick and twisted book and this world has always fascinated me, so it seemed like a good fit. Especially for the revenge aspect of the story, which 'Harvest,' at its heart, is,"  Lieberman tells Comic Book Resources. "Excuse the pun. I mean, here we have a ex-surgeon who is tracking down the rich and powerful who paid for illegal organs and taking those organs back.  It gets pretty sick. The illegal organ harvesting black market is now a global business onto itself – it's massive and highly illegal and ridiculously unregulated.  But here's the thing: it makes hundreds of millions of dollars a year.  If you were to suddenly make it legal, the combined worldwide profits would make it one of the most profitable businesses in the world.  And that's why it never truly goes away or can be stamped out.  It's just too profitable."

You can see the teasers and solicitation text below, and  read what Lieberman has to say about the series at CBR.Harvest  debuts in August.