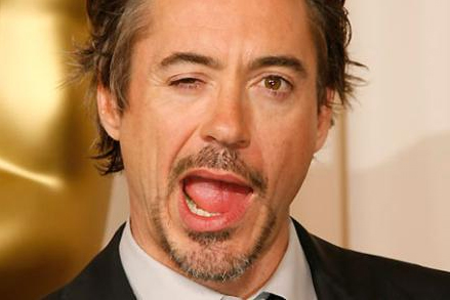 So, Avengers  premiered last night and the general buzz from those lucky enough to see it is that the movie is ballin' out of control. Generally. Despite that, according to RDJ there's still shooting going on. Tonight.
The Avengers" is locked in for a May 4th release, and it's  tracking  to open pretty much as big as you'd expect, in the realm of $120 million-plus. The film premiered to a Los Angeles audience last night, and while many shared "oohs" and "aahs," it looks like they  might  not be getting the final picture.

During today's "The Avengers" post-screening press conference,  Robert Downey Jr.  claimed that the cast and crew were due to shoot another remaining scene that very night. When the crowd laughed and  Marvelhead  Kevin Feige  notably winced, Downey replied, "I'm not kidding," and in typical Downey fashion ordered, "No more questions!" The cast then exited, leaving a sea of press buzzing.

It's not uncommon for Marvel to wait until the last minute to wrap these films and withhold snippets from certain audiences — most critics never got to see the post-credits stingers on a few of their releases thus far. And "Captain America: The First Avenger" was two months from release when  Chris Evans  and  Samuel L. Jackson  descended upon New York City to film the climax. Given that the film is so close to release, this would have to be a  very  small bit of footage, possibly another post-credits sequence that Marvel did not want to reveal to journalists.
My bets – if this is true – is on a post-credits scene. Frrealy.