Marvel Teases 'Phoenix' Reveal Coming This Wednesday During Live Event.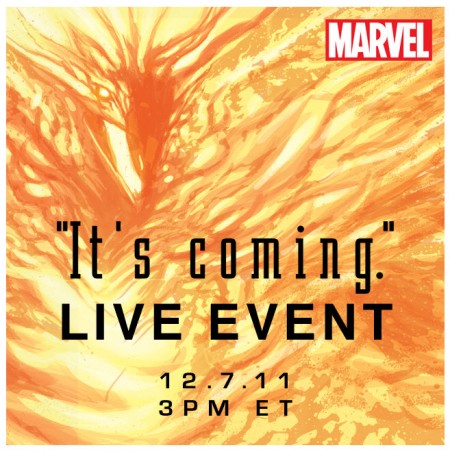 Marvel is set to reveal the fuckin' Phoenix Force and whatever sort of event in hand for it this upcoming Wednesday during an live event. Ya'll know how I feel about Phoenix, Jeanie, and gorgeous telekinetic forces of destruction. Here's hoping it involves her resurrection, and the utter vaporization of Emma Frost. Yeah, I'm still going there.
After two months of teases, it looks like we may get some payoff on the "It's coming" images that Marvel started running  around the New York Comic-Con. The company  has scheduled a live event  this Wednesday at 3 p.m. Eastern to hopefully announce the project.

Since October, Marvel has run Phoenix-themed teaser images, with several of their top creators tied to it – Brian Michael Bendis, Jason Aaron, Jonathan Hickman, Ed Brubaker, Matt Fraction, Olivier Coipel, John Romiat Jr. and Adam Kubert. And in the recent  Point One  comic, the Phoenix entity popped up in the Nova story, which led to Marvel Editor-in-Chief Axel Alonso confirming that it's part of a "Marvel Universe event."

"The Phoenix is the spirit of destruction and rebirth,"  Alonso told CBR's Kiel Phegley during a discussion aboutPoint One. "It razes worlds to grow something new. It's bad news if you happen to be part of that ecosystem; good news if you're the next stage. And, as everyone knows, the Phoenix is nothing without a host. So, the question emerges: If the Phoenix is headed somewhere, where is that? And if it needs a host, who is that host? Because we all know what happened the last time it found a host!"
C'mon! Don't let it find a host that don't have the last name Grey. Plz.