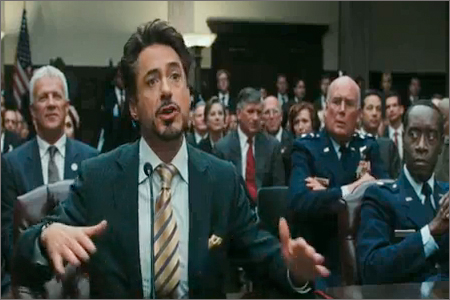 Shane Black, director of Iron Man 3, recently dropped some info-bombs regarding the third flick in the trilogy of techno-fetish bells-and-whistles nonsense.
Speaking at Long Beach Comic Con (via ComicBookResoures), Black revealed a few key details about the project including the confirmation several cast members will return to their roles:

- Black told the audience that he requested that director Jon Favreau return as Happy Hogan in the film. "I love him as an actor," said Black as the audience cheered.

- He revealed that outside of a few references, "Iron Man 3" would not involve the Avengers and would focus squarely on Tony Stark.

- The director also confirmed that Gwyneth Paltrow and Don Cheadle would return as Pepper Potts and Rhoades, respectively.

- A female audience member asked if the rumor that Black Widow was returning to the film was true. "I'll check the script and see if that's in there," said Black as the audience laughed.

- [An] audience member asked Black whether he preferred practical effects or digital ones and Black said that at this point CG often looks more real than the practical effects, explaining that Iron Man's real armor looks faker onscreen than the CGI version.

- "We decided that the villain was going to be the Melter — no, I'm kidding," added Black as the audience laughed. The director continued, "That's the problem, isn't it? Iron Man never really had good villains." When audience members suggested the Mandarin, Black dismissed it as a racist caricature.
I love the fact that it isn't involving the Avengers. Strip it down and let Black and RDJ go to work.