Quentin Tarantino's Next Flick Is A Spaghetti Western; Here's The Details.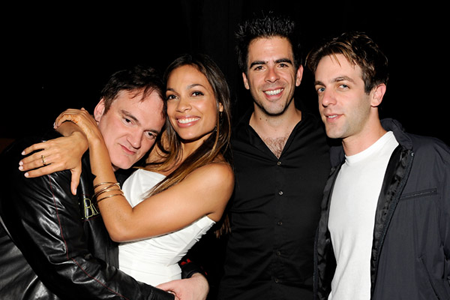 Oh shit! Quentin Tarantino is on the scene. News has began coming out that the motherfucker was bringing a Spaghetti Western into the world starring Christoph Waltz. Frankly, anything starring Waltz is something I'm interested in checking out. Since it first broke, intrepid sites have been throwing around details and rumors about the flick, which I have now collated for your convenience.
I still don't have all the pieces of the story (my Tarantino sources have been much more tight-lipped regarding this project than they were on INGLOURIOUS BASTERDS), but here are three things I can confirm: 1) Quentin Tarantino's next film  is a spaghetti western, 2) Christoph Waltz is "one of the stars", and 3) that title is completely wrong (even if it got completely mangled by Google Translate, it's still not even close). I cannot confirm plot details at present (though I think I've got the premise).
Deadline reported that Tarantino said he has completed the script for the new movie and that the writing, unlike his work on "Basterds" and "Kill Bill," came together quite quickly. Meanwhile, the actor Franco Nero gave anItalian-language interview at the Los Angeles Italia festival in which he said that talent has already been coalescing around the project, including himself, Keith Carradine and Treat Williams.
We learn (from  Mr. Beaks) that Tarantino's western is  not the same film Franco was talking about. But Tarantino has finished his script and in two months, he hands it in for funding and financing reasons.
I'm fucking stoked to see all of this coming together so quickly. As the other multitudes of sites have mentioned, I'm accustomed to hearing relentless blathering by Tarantino and about Tarantino's next project, only to wait years to see it come to light. Here's hoping this son of a bitch is actually happening sooner than later,