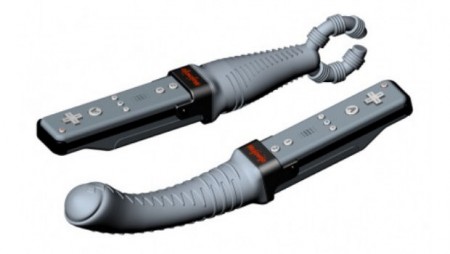 Listen man! When I hit puberty while playing Star Fox 64, you know what the first thing I did was? I put the rumble pack right on my little barely-pubescent testicles and I felt the roar of stimulation. It just seemed so natural, you know? And keeping that in mind, I've been wondering where the fuck the Wiimote sex toys have been! Well god dammit, they're finally here.
The world has become a better, more orgasmic place today.
"The device is attached to the accessory port on a Nintendo  Wii  remote control," explains manufacturer Mojowijo. "The control is then connected to a bluetooth enabled PC running Mojowijo software.

"Using Mojowijo's patent pending  Motion2Vibration  technology, the device is able to transform the varying motions of the control into appropriate vibration signals and send them to another selected device – in the same room or over the internet. (Wii gaming console NOT required). Essentially turning your Wii remotes into shared, remote controlled vibrators (aka wii vibrator or wiibrator!)."

The central gimmick here is that you get to control another person's vibrator as opposed to your own, which makes them masturbation devices for people who should just be having actual sex. Unless they're miles apart, in which case these things work over Skype.
A good god damn! You don't even need the Wii! Hell yeah! Welcome to the world of robotic-claw-testicle-genital-stimulation! In the future this is going to be so passe, but right now I want to you know, manipulate genitals over the internet using a Wiimote. You don't?