Tearing Apart an Old Favorite: X-Men #25
Earlier this afternoon I dug through the archives I share with Caffeine Powered, as I was on a mission to find one of my all-time favorite comic books. Thanks to the wonderful organization skills of my brother, it was with minimal effort that I was able to pump my fist and shout "Huzzah!" I held in my hands X-Men #25, the very first comic I remember reading.
Actually, I need to pause for clarification. X-Men #25 was not the first comic book I owned. Looking at it today I realized that the comic was published in October 1993; as a seven year old at that time, I must have already been familiar with paneled pages.
Furthermore, when I first got my hands on X-Men #25 almost sixteen years ago, I didn't read it. In fact, I'm not sure if I could read at that age. But even if I was literate, I distinctly remember skipping the words in favor of the images (sorry Fabian Nicieza!).
Yes, it was Andy Kubert's expressive art that sold me on this book all those years ago —Xavier looks weary yet determined, Cyclops is stoic in his crossed-arms approach to leadership, and Gambit is believably cast as the outsider who senses the value of a greater cause. And in typical early nineties style, all the women (notably Jean Grey, Rogue, Storm & Psylocke) are perfect babes with huge hairdos, racks, and behinds. Looking at it now, there's no way that the 1993 edition of Pepsibones Krueger couldn't like this comic.
But all of Kubert's efforts can be stripped away as long as page forty-two remains. This page contains an image that horrified me into fandom as a child and keeps me believing as an adult, a scene of terrific agony in the midst of battle.
In the final confrontation (as if such things exist in comic books) between the X-Men and Magneto, Logan delivers a devastating strike to the master of magnetism. Unfortunately, the blow is not fatal and Magneto counters with a blast of magnetic current.
The narrative informs the reader,
Magnetic fire courses through Wolverine's body.

And it begins with a small tug —

— An almost gentle pull —

— A harder yank —

— Then a wrenching tear —
The result?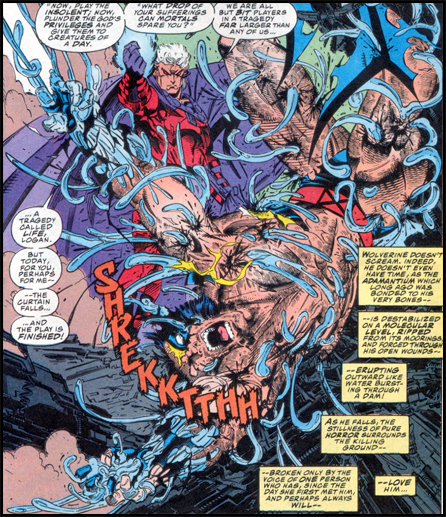 Yes, this is the issue in which the adamantium is ripped off of Wolverine's skeleton and forced out of his open wounds. I don't care that it led to his brief foray into the world of bone claws or an unfortunate return (in the sense that nothing ever changes) to adamantium. To me, this is a definitive moment of Wolverine — he is the Marvel Universe's ultimate badass, a guy who won't back down from any fight, even if it means literally being torn apart from the inside.
Would I say that X-Men #25 is one of the ten best comics I've ever read? Probably not.
But I'd be a goddamn liar to say it isn't one of my favorites — and if I had never seen Logan being ripped apart, I may not have stuck around long enough to get to those top ten.