'Atlanta' Season 3 is finished shooting according to Brian Tyree Henry. Gimme dat!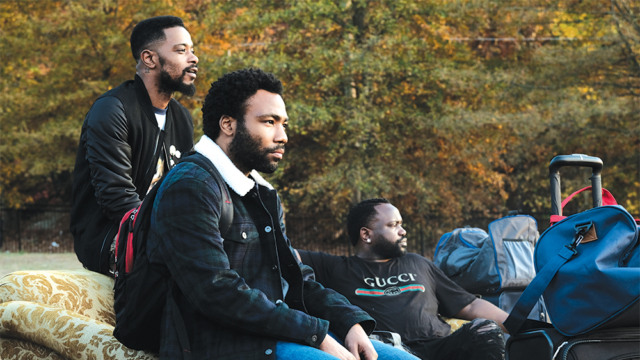 Man, it's been fucking eons since Atlanta season 2 fucking concluded. Eons! But, the wait seems to finally be fucking coming to an end. According to none other than Paperboi himself, the third season is finished. Goddamn, fuck yes! The show has only been getting better and better as it dares to get weirder and weirder, and I'm here for it. What the fuck do they have up their sleeve next? Ain't got no clue, speculating seems pointless, but I'm stoked to get to the reveal.
It's been a long wait for fans of "Atlanta," which remains by far one of the best and most formally inventive television shows currently ongoing. The final episode of season 2 aired back on May 10, 2018 and production has since taken an extended break to accommodate the busy schedules of its cast. The series follows Earnest "Earn" Marks as he attempts to manage his cousin's rise in the Atlanta, Georgia rap scene while balancing the demands of his own personal life. "Atlanta" stars Donald Glover, who is busy with a successful music career on top of his acting and other creative commitments, LaKeith Stanfield as the idiosyncratic Darius, Zazie Beetz as Earn's love interest, and Brian Tyree Henry as Alfred Miles, better known as the rapidly rising rapper "Paper Boi."

Henry, of course, answered the superhero movie call with his appearance in Marvel's "Eternals" as one half of the franchise's first on-screen LGBTQ+ romance. While this was an unquestionable win for those of us who love to see Henry's profile rise even higher in mainstream movies, this also had the unintended side effect of further delaying production on the next season of "Atlanta." Amusingly, Henry seems well-aware of the fervor surrounding the show and has provided a brief — if somewhat wry — update on the popular series.

We have to wind the clocks back to September of last year to find the last solid production update on "Atlanta," at which point we were told that the series would resume filming sometime in 2021 to shoot both seasons 3 and 4 at the same time. When one has to make provisions for the hectic schedules of stars like Glover, Stanfield, Beetz, and Henry, it suddenly makes a lot of sense to get as much of "Atlanta" completed as possible while they're fortunate enough to have the cast all in one place. Thanks to a recent "Eternals" press conference attended by /Film's Hoai-Tran Bui, we now have a new update straight from Henry himself. If he sounds a little exasperated by what's probably been a constant question thrown his way at every possible moment, we can't exactly fault him for that:

"We're done. We finally got that season in the can, everyone please stop yelling. It is coming, I had to be a superhero first, okay?"

Be right back, I'm spearheading a "Stop Yelling At Brian Tyree Henry" campaign as we speak. There's unfortunately no rest for the weary, however, as the "Eternals" star is set to appear in the upcoming film "They Cloned Tyrone," as well as another FX series titled "Class of '09." That's in addition to his previous roles in several recent movies, including providing the voice of Miles Morales' father in "Spider-Man: Into the Spider-Verse," his supporting role in "Child's Play," "Joker," and this past year's "Godzilla vs. Kong."

Despite having completed filming on "Atlanta," fans of the series will be in for more of a wait. Until then, you can see Henry in "Eternals" on November 5, 2021.
Read More: https://www.slashfilm.com/637583/atlanta-season-3-is-in-the-can-brian-tyree-henry-confirms/?utm_campaign=clip