Next 'Superman' Movie Confirmed To Have Black Lead. Just Cast Michael B. Jordan, No?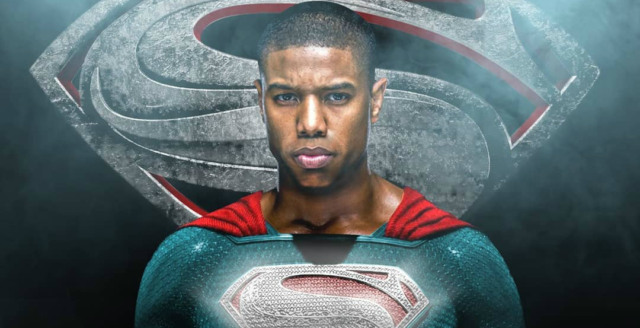 You can hear the people frothing at the mouth. Gnashing their teeth. But I'm more than cool with the next Superman movie featuring a black actor in the lead role. At this point it almost seems too obvious, but they should just fucking cast Michael B. Jordan as rumored.
DC's Superman reboot movie will reportedly star a Black actor as the Man of Steel. The Kryptonian superhero first graced the big screen in 1978 with Christopher Reeve playing Clark Kent/Kal-El. His tenure as Superman ended in 1987 after four films, but it wasn't until 2006 that Brandon Routh took over the mantle with Superman Returns. DC rebooted Superman once more under Zack Snyder's direction, with Henry Cavill cast as Kal-El in 2013's Man of Steel. The movie was a financial success and saw Cavill return for Batman v Superman: Dawn of Justice, and he'll appear again in Zack Snyder's Justice League.

Even though Cavill's Superman has a large fan base, DC has spent the last several years trying to figure out what to do with the Man of Steel on the big screen. Man of Steel 2 hasn't gained any momentum, even with directors like Christopher McQuarrie interested in it. Instead, recent developments point to DC rebooting Superman for the big screen. The new Superman movie will be produced by J.J. Abrams and written by acclaimed author and comic writer Ta-Nehisi Coates. Phrasing the new film as a reboot immediately led to questions about who will be the star, with many particularly interested to see if Cavill will return.

Despite Cavill reportedly being in talks to return as Superman in future DC movies, it doesn't appear that he'll be the star of Abrams and Coates' Superman reboot. THR reports that Warner Bros. and DC Films' intent is to introduce a Black Superman in the movie. Michael B. Jordan met with DC in the past to discuss a possible Superman movie, but it never moved forward. That said, the studios could reevaluate around to Jordan at a later date potentially.

As long as the current plan does not change, the Superman reboot will make history as the first live-action DC property to portray Superman as a Black man. There's currently no information on what route the Superman reboot will take to tell this story. Coates and DC could make Kal-El a Black man since Kryptonians are an alien race filled with people of different ethnicities. The movie could also potentially star Calvin Ellis, an alternate universe Superman from the comics who becomes President of the United States of America. There is also Val-Zod, one of the last Kryptonians from Earth-2 who becomes Superman.

The possibility of a Black Superman is an exciting development for the future of the DCEU. While many will surely be disappointed that this could mean the end of Cavill's time playing the hero, it presents a brand new story for Superman on the big screen. Since Michael B. Jordan already spoke to DC about Superman in the past and expressed interest in playing Calvin Ellis in the future, it won't be too surprising if the studios circle back around to him to be the star. But if Jordan is unavailable to play Superman in the future, other majors stars like Daniel Kaluuya, John Boyega, and John David Washington could find themselves in contention. Since the Superman reboot is only just starting development, it might be a while before DC casts its new Black Superman.