Weekend Open Bar: The Pants-Off Dance Off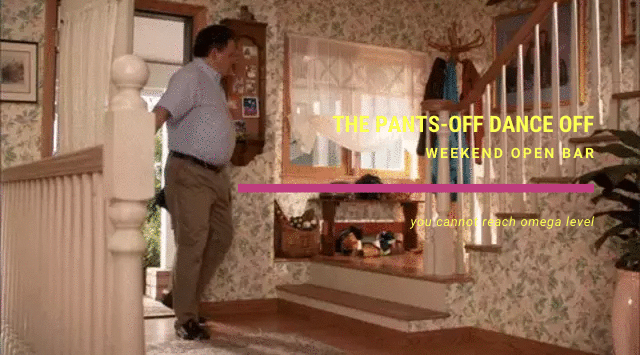 Man, I can absolutely relate to Murray from The Goldbergs. Motherfucking Spring Break is here, which means it's time to pop off them jeans! Slip into something more comfortable, and fucking flat-out vibe. It's goddamn glorious out today on the Eastern seaboard of the Empire. I got myself a warm-ass breeze wafting into my study, I got a warm-ass can of Diet Dew flying down my gullet, and I got a warm-ass glow in my heart.
Between the weather, the longer days, and the imminent approach of our vaccinations, I'm feeling hope. Really, I'm feeling hopeful for the first time since maybe the Fall. The Winter cracked open my psyche and blasted my mind-ass. Somehow while missing my prostate, because let's be honest: an ass-blasting focusing on the prostate is a glorious, near-heavenly experience.
But now? I don't know, I can feel the claws of gloom slowly unclasping my brain, and even if it's fleeting, it's a fantastic reminder. You know? That it's possible to feel something other than Fear and Loathing.
Enough about me, dudes. How the fuck are you folks-fucks doing? Let's hang out this weekend, my dudes! Share in the reverie together. Listen, if you're bumming, I get it! But I'll champion you, and attempt to swell your balls-heart with my something-such. I don't fucking know, I'm rambling. I'm caffeinated, and I got a good night's sleep.
So it's time, time to hang out. Proceed in the following steps:
1. Enter the Open Bar.
2. Take off your pants.
3. Grab your drink and/or mind-vapours of choice.
4. Shoot the shit!
This is the Weekend Open Bar, and Iove ya'll!