Weekend Open Bar: Enter The Dojo Of 2021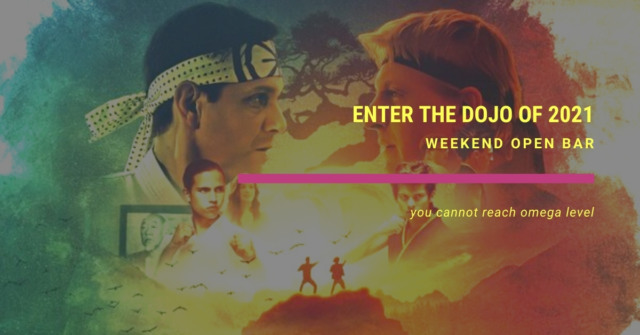 By god, we fucking made it! 2021, motherfuckers! The new year has arrived not a moment too soon, and I'm glad to karate chop the neck of the previous 365 days. I know there's the fair critique that time is arbitrary, a new calendar don't mean shit, and nothing magically changes. That said, it still counts for something. Our little human meat-computers process reality through the experiencing of touchstone moments. Holidays, birthdays, and word, the new year. Don't blame me, I'm just the messenger. Science shows that shit.
Which means while the calendar flipping may not change anything, the start of the new year is a solid-as-fuck totem we can cling onto as we eye happier days in the upcoming months. So, fuck yeah, arbitrary or not, I'm stoked to finally be rid of the previous shit-ass year.
Goodnight and goodbye, 2020! May the new year bring with it more happy tidings. As well, may it continue bringing together this wonderful little community of degenerates! Let's spend the first weekend of the year shooting the shit here at the Open Bar! What are you up to?
Are you watching Cobra Kai? Playing some Cyberpunk 2077? Stuffing your face gratuitously before the holiday season ends and you can't justify it any longer? I want to know! I want to hang. Let's spend some time together.
This is Weekend Open Bar!